Archive: November, 2011
According to a segment on ABC's Good Morning America. we must credit Pippa Middleton for spawning the interest in butt pads.
Seriously?
Does she even really have a noticeably booty?
New York Fashion designer, Adam Lippes came to King of Prussia's Gulph Mills Golf Club for the ninth annual Cancer Support Community's "In Fashion!" luncheon and fashion show.
Lippes - one of my favorite New York Fashion Week designers - showed off his Fall Winter Collection on cancer survivors. Can we get two cheers for the survivors?
Lippes spoke about his collection and the fact that he lost his mother to cancer. Then, ten models proudly walked the runway wearing snug sweaters, beautifully tailored shifts and fitted suits.
Type or paste (as plain text) blog copy here.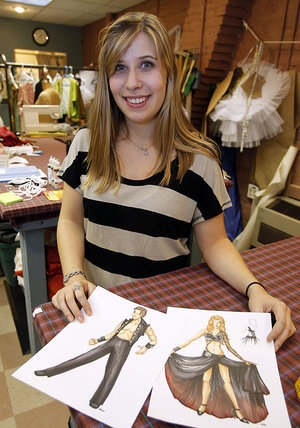 Professional Dancing With the Stars two-steppers, Derek Hough and Anna Trebunskaya, rocked the sleek outfit, local costume designer, Amanda Wolff designed Tuesday. Wolff, an apprentice costume designer for The Walnut Street Theatre, won first place in a design contest sponsored by Macy's and Dancing With the Stars.
Read the full story here.
Concidentally, Woff sewed most of the costumes in The Walnut Street Theatre's production of Rodger & Hammerstein's The King and I. Read that full story here.
As a child of the Hip-hop generation, the passing of Heavy D has got me down. Heavy D -Dwight Arrington Myers - collapsed in his Beverly Hills home on Tuesday. He was just 44.
Dang it.
Heavy D wasn't just a rapper, he was your average cool dude. He was probably one of the first ambassadors for accepting body image - good and bad. Known as the "Overwieght Lover," MC Heavy D made big sexy. He was after all, "Mr. Big Stuff." He didn't rap about food like the Fat Boys, but about love "Dontcha Know?" and "Somebody to Love Me For Me." In the emerging age of gangsta rap, Heavy simply rapped about living life the best way he could.
So in between blah blah from NeNe and Sheree - NeNe does need to get her teeth fixed - and the fabuloisty of Phaedra, we learned Sunday night on The Housewives of Atlanta that Cynthia Bailey wants to start her own modeling agency, The Bailey Agency.
She has brought in the help of America's Top Model celeb, Miss J. Alexander. So what do you think? I agree that too many models think they are auditioning for rap videos, but does the world really need more models? Does Cynthia have a shot? Everyone should have a chance, right? Do you watch Housewives. On another note, I think that Sheree is still the best dressed on the show. Do you have a favorite style form an Atlanta Housewife?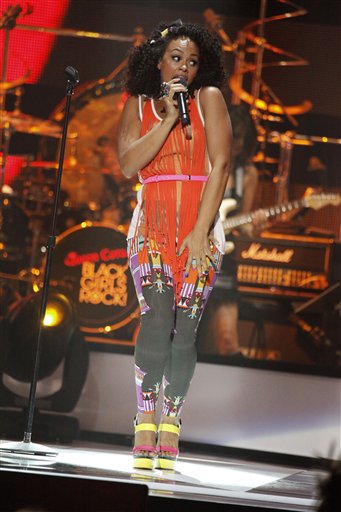 Last night BET aired its second annual telecast of the motivational, inspirational tribute to black women across the world, Black Girls Rock! I listened to the Tom Joyner Show Monday morning and Cybil talked about the irony of watching Black Girls Rock on BET and then tuning into Black Women fighting each other on The Housewives of Atlanta. (Don't you just love NeNe?)
We digress. The fashions on Black Girls Rock were pretty run of the mill. There was the required sparkle and glitz by hostess, and bestfriend in my head, Tracee Ellis Ross and her co-host actress, Regina King. La La Anthony, wife of NBA player Carmelo Anthony, looked pretty smashing in her long sleeved winter white gown. We told you long sleeves are making a slow comeback for evening wear. Wait until the Academy Awards. But after perusing through the pics, we decided that performer, Elle Varner, took the tallest fashion leap. A little bit of layering, a little bit of Bohemian, a little bit of everything. What do you think? Did you watch Black Girls Rock Sunday night? What was your favorite outfit?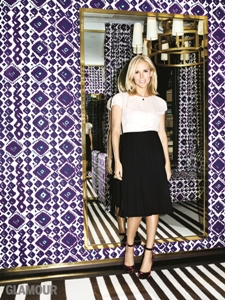 GLAMOUR magazine has named Tory Burch among Glamour's 2011 Women of the Year. Jessica Alba will present the award to Tory Burch at a gala event on Monday Nov. 7, at Carnegie Hall in New York City. Eleven winners will be honored this year, additional winners include: December cover star Jennifer Lopez, Chelsea Handler, Lea Michele and artist, Cindy Sherman, who will receive her award from Marc Jacobs.

The full list of winners are featured in the December issue, on newsstands now, or log on to http://www.glamour.com/woty

Tory just won't stop!
Not to mention, I really like this dress. I have one just like it. That believe it or not, I bought last year from WalMart... LOL