Archive: November, 2008
Project Runway grad Christian Siriano said beading was a big deal at Sunday night's American Music Awards, but I think the under 20 and barely-over starlets rocked in their party-style ultra minis.

Sixteen-year-old Miley Cyrus was quite the grown up - on her birthday, nonetheless - in a black and gold goddess shortie. We liked the Pussy Cat dolls coy, cocktail ensembles as well. Even Jordan sparks went way above the knee in canary yellow. Whoohoo! And we loved Rihanna's blush handkerchief-hemmed mini. What do you think about the short dresses? Did the young artists set themselves apart fashionably? Did they give the older songstresses a run for their money?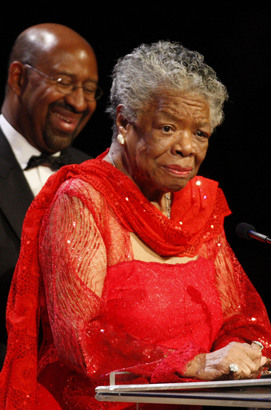 There is something to be said about classic elegance. An ability to be fantabulous at any age. We think Maya Angelou pulled out all the stops for age-appropriate fantasticness at last night's Marian Anderson's Award Ceremony. Do you like her look? How much do we love Angelou in her sparkling Phillies red gown?
For a minute there this afternoon, we thought we were at the end of a fashion era. Page 6 reported today that Vogue editor, Anna Wintour was "thinking" of retiring. An unnamed source told The New York Post that Wintour's "contract is up soon. She's thinking of retiring. She feels she's done it all and had enough." We put a call into Vogue's spokesperson, Patrick O'Connell who wrote us back in an e-mail that "this is a completely unfounded rumor." Whew!
We're glad that didn't pan out because Wintour has to be on board when the new presidential administration is sworn in to ensure Michelle Obama on the cover. And what about Beyonce? What do you think of Wintour's reign at Vogue? Do you read Vogue? Would you miss Queen Anna if she were ever to leave?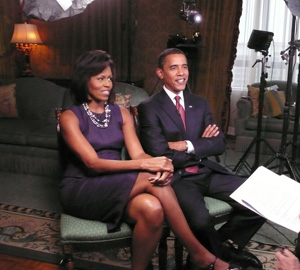 There are already plans for a book to be written about first lady-elect Michelle Obama's fashion sense. Avon Books, an imprint of Harper Collins, announced today that fashion writer, Mandi Norwood will write a yet to be named paperback dedicated to Obama's style. The book will include design sketches and tips on how to achieve Obama's colorful, yet well-tailored look. Obama is known for mixing high and low looks from H&M and J.Crew to Thakoon and Narciso Rodriguez.
On Sunday night, Obama joined her husband, president elect Barack Obama on 60 Minutes!. She wore a sleeveless, tailored deep purple dress. Her ropes of black and white pearls sparkled. And her makeup - especially the violet eyeshadow - was flawless. I'm working this moment trying to figure out who designed the dress. The book is due out in April 2009. Should be a voracious read for fashionistas. Would you read a book on Michelle Obama's style? Will Obama supercede Jacqueline Kennedy O'Nassis as America's most stylish the first lady? What do you think she'll wear to the Inauguration?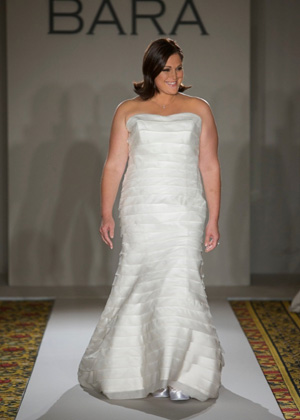 Mark your calendars. This Saturday, November 22, Nicole Bridal and Formal Shoppe in Jenkintown will host a trunk show for brides sizes 16 to 28 featuring the wedding towns designed for the Bara Luxe line of Marimo USA. Bridal specialist, Yvonne McClendon will be on hand to provide tips. We all know how hard it is to find a specialty gown. And it's twice as hard when you can't try on the gown of your dreams before ordering, simply because the boutique only stocks 4s, 6s, 8s and sometimes 10s in sample sizes. The show will be from 10 a.m. to 5 p.m and brides who order dresses on the day of the trunk show will receive a 15 percent discount. Nicole Bridal & Formal Shoppe is located at 261 Old York Road. Call 215-886-2333 for more information. Any plus-sized brides out there? Have you had a hard time finding a dress?
I'm an Usher fan and Lord knows, I'm a fan of the Victoria Secret Push Up Bra. But I'm not sure I get the point of Vicky's annual fashion show, held this past weekend in Miami. I found the $5 million diamond-studded bra interesting. But wings? Come on, really. Call me a hater, but the whole angel/vixen image just didn't work - or maybe I'm just tired of it. What do you think? Is this annual bare everything lace fest entertaining, or is it just a waste of time? Does it have anything to do with fashion, or is it another nail in the coffin of women's body image? Is it every man's fantasy? Share your thoughts.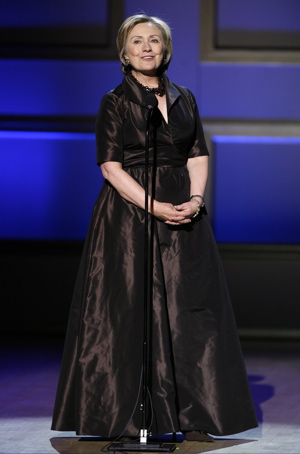 Check out Hillary Clinton in this Isaac Mizrahi, shirt dress gown! When was the last time we saw Clinton in a dress? Clinton was honored earlier this week as one of the Glamour Women of the Year. It's a great classic gown that would look good on women of all ages. Congrats to the former first lady for stepping out in style. What do you think of Clinton in the floor-length frock?

If you get a moment, check out the fragrant apothecary, Kiehl's Since 1851 at 18th and Walnut Street for an annual party. Celebrations run through Saturday. The company is asking fans to tell them if they like the pear scent in a gentle exfoliating body scrub, a liquid hand soap, a body lotion or a cleanser. My favorite is the body cleanser. The company introduces new pear scent each year in honor of its original home at Pear Tree Corner in New York's East Village. Anway, go by, sniff and vote. You can't go wrong with Kiehl's fragrances. Kiehl's is located at 1737 Walnut Street. Call them at (215) 636-9936. What's your favorite Kiehl's product? Mine is the foot salve.