Archive: October, 2011
Last night I was dawdling on Twitter (My handle is ewllingtonphl) when I saw a post by Vogue Contributing editor, Andre Leon Talley (Twitter Handle: OfficialALT) about an article on The Daily Beast.com by Manolo Blahnik. It was entitled My Greatst Mistake: The Shoe That Almost Ended My Career. Have a look. I like it because in the story Blahnik is totally twisted from designing a beautiful shoe that turns out to be structurally dreadful on the runway. The fickle fashion public, of course, is in awe of this shoe. (Go figure.) Just goes to show you that what you consider your worst fashion faux pas can be your best style moments. Do you have any?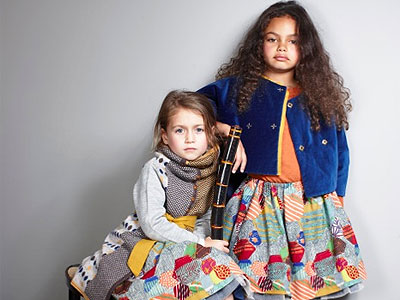 This just in: Philadelphia's own Anthropologie, collaborated with swanky children's wear brand kicokids for a capsule collection of girls clothing that will fit young chicas ages 2 through 6. The children's wear line is in Anthropologie stores including the one in Rittenhouse Square.
Kicokids is designed by Tia Cibani, known in high- fashion circles for colorful world-inspired looks behind the women's wear line, Ports1961. Cibani left in 2010 and was replaced by her sister, Fiona.
If these previews are any indication - especially this scrumptious multi-layered look featuring a bold-print full skirts - this capsule question will be absolutely adorable.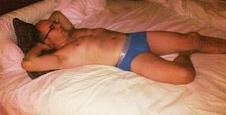 Medford Mayor Chris Myers was caught lounging in a hotel room with just his drawers. Hee. hee. Subect of a hot blog this morning. For more information, read here. Sexy, or just weird?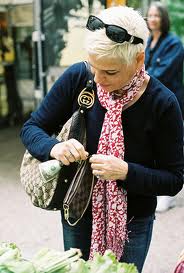 I was perusing Philly.com this morning and came across this well-written, but not very interesting opinion piece by Temple University associate professor, Peshe C. Kuriloff. Kurlioff is a "self-confessed Philadelphia fashionista." I think the writer is trying to say, what many claim, that Philadelphia doesn't have it's own personal style. It's hard for us because we are in New York's shadow. Big news there.
The writer also adds that as Philadelphians, "We disdain snobbishness, and for the most part eschew brand names. Carrying a Louis Vuitton bag or wearing a Burberry plaid trench coat makes you stand out in Philadelphia, not fit in." And then goes on to say, the brands Philadelphians value most are their "sports teams and wearing Phillies, Eagles or Flyers jerseys is not only a pervasive style but also a mandatory expression of civic pride."
I disagree.
I must say, we are not loving this Versace for H&M collection. The clothes look cold. I love skinny pieces and I love color. I'm just not sure about this. How do you feel? The lesson here is simple. Missoni for Target, yes? Versace for H&M, No. Do you know any man who would wear the above pink suit? I don't. Not even a member of 90s band Guy. What do you think? Here is a snippet of the collection.
OMG! Look at these dramatic noir wedding gowns courtesy bridal design maven, Vera Wang. These special occasion frocks, cleverly named Witchcraft, are the hottest news coming out of this week's New York Couture Bridal Fashion Week. Critics are calling the gowns, complete with heavy drama skirts, lace overlays, illusion tops and sweetheart necklines, maudlin. Wang also showed gowns in nude, too. I think these black gowns are fresh. (The birds nest hair is not a requirement.) Nineteenth century monarch, Queen Victoria set the standard for white gowns in the 1800s, so it is time for a change. What do you think about these gowns?
Other hot news out of New York's bridal fashion week: Design duo Badgley Mischka created a ribbon-trimmed to- die for collection of dramatic strapless white gowns. See here. Stiff? Maybe, but gowns that feature sweetheart necklines and fishtail bottoms are quite amazing.
And it looks like bridal designers aren't doing a bevy of long-sleeved gowns per the lead Catherine Duchess of Cambridge. Read about it here I still think long sleeved gowns will be desired by brides, it's just that it takes time for our eyes to get used to it. But then again, there is something about strapless gowns that say princess. I'm so torn.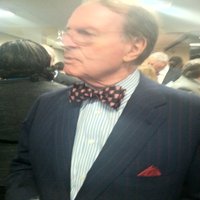 Check out Temple graduate and CBS Sunday Morning host, Charles Osgood in his Temple Alumni bow tie. Cute, eh? Word on the street is that the school sent him the chic accessory and Osgood, with his ever dapper self, opted to wear it during the Wednesday afternoon award cerremony. Do you like the Temple tie? Congrats go to Daily News sports writer Bill Conlin and the late Leslie Esdaile Banks who were among the seven awardees.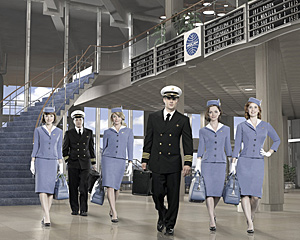 The Fashionista in me enjoys the satorically stunning slice-of-history series like Pan Am, Boardwalk Empire and of course the doyenne of the genre, AMC's Mad Men, I can't help but think: The clothes of the era were sharp but it sure was a crappy tiem for women - not to mention minorirties - who lacked basic civil rights, earning potential and sexual freedom. Read more in today's Mirror, Mirror column. Still, we must admit that these chic, cerulean skirt suits, designed by Hollywood costume designer, Ane Crabtree, are hot. They look so great that we think there are going to be an onslught of Pan Am stewardess Halloween costumes. How do you feel about these retro looks?