Archive: October, 2008
If it wasn't for Mr. Blackwell, known world-wide for his annual celebrity best and worst dressed list, I probably wouldn't have a job.
Mr. Blackwell, his first name was Richard, died Sunday afternoon after complications from an intestinal infection. He was 86. Mr. Blackwell released his first list of fashion disasters in 1960. Up until then, he was a little known dress designer. Blackwell annually ripped into celebrities for committing fashion flops. His list was met with much fanfare. Nobody was safe, not even Princess Diana of Wales, who topped his worst-dressed list in 1982. According to Mr. Blackwell, Princess Diana had gone from "a very young, independent, fresh look" to a "tacky, dowdy" style. Some of of his other famous zingers include:
Barbra Streisand: "She looks like a masculine Bride of Frankenstein."
Before Mirror Image goes on vacation, we pose this question: What do you think of these wintry, fur-lined Crocs? The company, known for its comfy summer shoe, released six new winter styles. We think these shoes could be warmer alternatives to the easy-to-wear flip-flop that won't freeze our newly manicured toes off. The rainbow colors, comfort factor and the price - they are just $50 - are enough of a selling point for me. Interested? You can find them locally at Modell's and Benjamin Lovell Shoes. You can also buy them at the Crocs website. Do you like them? Can Crocs ever be truly be fashionable? We'll be back next Tuesday.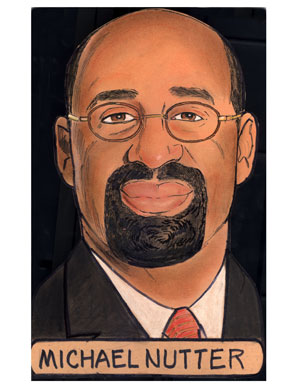 Stylish? You be the judge. Michael Nutter is the latest Philadelphia dignitary to show up in technicolor at see and be seen eatery, The Palm. Neat, huh? Do you like the image? Are you stylish enough to dine at The Palm?
This is it! This is the look I was talking about. Last week I wrote I blogged about fall fashion and bigged up the midi pencil skirt. I also wrote a Mirror Image column last month hailing it. The midi pencil skirt's hem length varies from just below the knee to mid calf. Many of you wrote back asking, how can curvy women wear that look? You said it was only for thin women! You all got mad! Well, look at Ms. Jackson! She looks marvelous. She is definitely not a beanpole and this totally works on her. This is what I was talking about. OK, I'm off my style soapbox. In other news, we hope Janet is feeling better And, should she give Jermaine Dupri another chance? More importantly, what do you think about the look?
I admit I don't know much about MTV's The Hills, or Lauren Conrad, for that matter. (I'm a Beverly Hills 90210 fan, - the 90s version.) But I think Conrad's collection of soft dresses she debuted this week at L.A. Fashion Week is worth looking at. In a fashion season that was very geometric and tailored, the 22-year old actress managed to keep her pieces light, comfy and flowy without being too, too young. OK, the short dresses might be tough to pull off, but we really like the maxis. What do you think of the collection? And more importantly, do you watch The Hills?
... And speaking of heels. These Chanel pistol heels Madonna rocked to Monday night's premiere of her directorial debut Filth and Wisdom, are hot. I saw them today in the New York Daily News. But the shoes are $2,200. (Do guns even cost that much?) It also looks like the 80s Material Girl is leaving hubbie, Guy Ritchie. I hope these shoes don't represent how angry she is. Do you think the pistol-heeled shoes promote violence, or are they simply a fashion statement? Or are they both?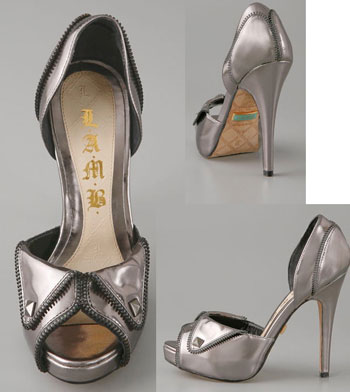 Here are two fashion topics of late tied into one, really uncomfortable, but kinda cute shoe: industrial, exposed zippers on teeter tottering high-heeled shoes. Crazy, huh? Let's tackle the heels first. Are six or seven inches just too high and toe- pinching to walk in? And what do you think about exposed zippers? Are they cute on bags, but not on the back of dresses? When does fashion stop being forward and just become plain ridiculous? Share!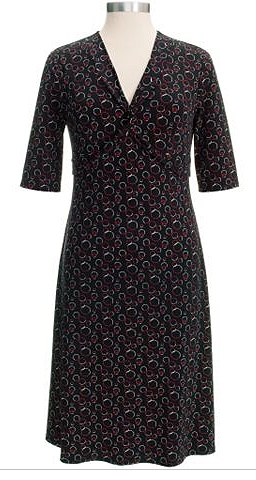 Here is a post, my friend, the Frugalista, would be proud of! On Saturday I went to Wal-Mart to pick up some diapers and red tights for my visiting 2 1/2-year-old niece when I noticed dresses for $15. I walked over, never unable to pass up a deal, and when I was done, I was ready to buy five including a deep red hoodie dress from the Norma Kamali collection. All together, even with the diapers, tights and a

Dora the Explorer

sweatshirt, I spent about $150. Can you dig it?

This is not one of the dresses I bought, but it was from the collection. I'll post a pic when I wear one! Maybe later this week at happy hour?

I told Jenice Armstrong at the Philadelphia Daily News and she admitted this weekend she found a perfect midi-pencil skirt at Kohl's. Fantabulous. According to recent news, Issac Mizrahi is leaving Target, but we frugal fashionistas have other options. Tell us about your best bargain this fall. So far, this is mine!