Archive: January, 2012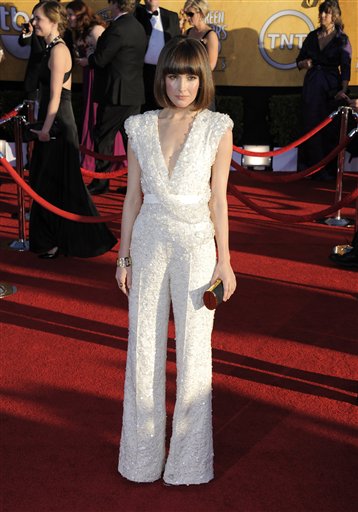 Before I got a chance to blog that my favorite SAG red carpet look of the night was Rose Byrne in her jumping Eli Sab jumpsuit, the folks at Frieda emailed me to let me know it was creative consultant Harry Josh who hooked up Byrne's poifect bob! Good Job, Harry. Anyway, I love this look because I think it's fierce when celebrities do what they want as in wear pantsuit to a haute award's dinner. Awesome! What do you think of Byrne's choice?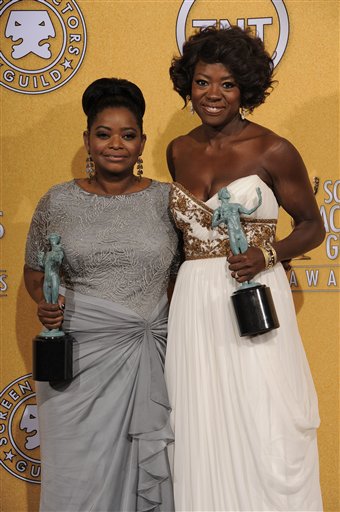 Viola Davis and Octavia Spencer went with safe, yet fashionable options at Sunday night's Screen Actors Guild Awards. White was a major color on the red carpet and Davis' strapless Marchesa with gold lame details were among the night's top fashion choices. Octavia Spencer was classic, yet phenomenal in her nude Tadashi Shoji (It looks like Shoji is becoming Spencer's go-to designer as she opted for him at this year's Golden Globes too. We would be remiss if we did not congratulate Davis and Spencer for their best actress and best supporting actress SAG awards respectively. Both women did a phenomenal job in the movie, The Help. What did you think of Davis' and Spencer's red carpet pics?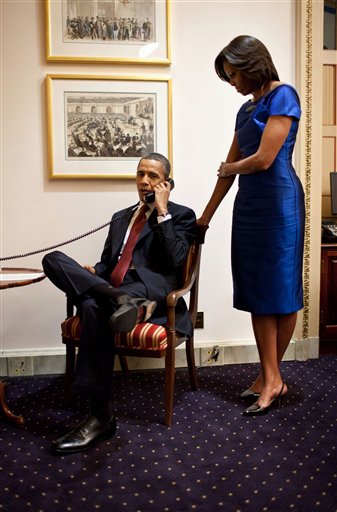 Michelle Obama's cobalt blue sheath by New York Fashion Week designer Barbara Tfank may have popped in the sea of mundane grays and blacks at Tuesday night's State of the Union Address, but the dress was a snooze.
Now I'm a fan of the sheath. I like irridescent fabric. I'm all for the midi-calf length skirt, but there was something about Mrs. Obama's choice of the evening that was boring. And the silhouette was totally unflattering.
Again, I think I'm in the minority here, too as my colleagues and friends raved about Mrs. Obama's frock. Usually, I'm a big fan of the first lady's fashions because even when she questionably mixes her stripes and prints, she pushes the envelope and errs on the side of fashion forward rather than conservative. There was just nothing special about this dress.
I think - nope, I know - I'm in the minority here.
But, I like Hillary Clinton's just-above the-shoulder-length bob.
I finally got a good look at the Secretary of State's flip at Tuesday night's State of the Union Address and I like it. I'm a a total fan of the tiny tiny jewels on her thin headband, too. Bedazzled at the SOTU. Go Hillary!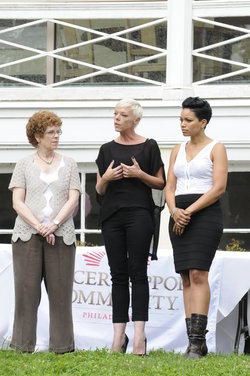 Beyond Hair salon, a Cherry Hill salon owned by Aisha McKenzie, will be featured Tuesday night on Bravo TV's reality show, "Tabatha Takes Over."
Since the death of her mother from cancer, Aisha has been taking her anger out on the staff and the atmosphere has made her salon appear unprofessional. The staff has also become loud, unprofessional and out of control. Tabatha must help Aisha get past her grief to run her business again and help the staff to respect her if the salon is to survive.
The staff takes a field trip to the the Cancer Support Community of Philadelphia, which provides emotional support and education to people affected by cancer.
Is it me, or is it fair to say that Versace doesn't need a "young" line.
My feelings aside, it was announced earlier today that Kaia Gerber, the 10-year-old daughter of supermodel Cindy Crawford and Rande Gerber is staring in Young Versace's first advertsing campaign.
The younger Gerber is dressed in all black. She has a come hither pose. Her skirt is short. Her jacket is open. Her head is up.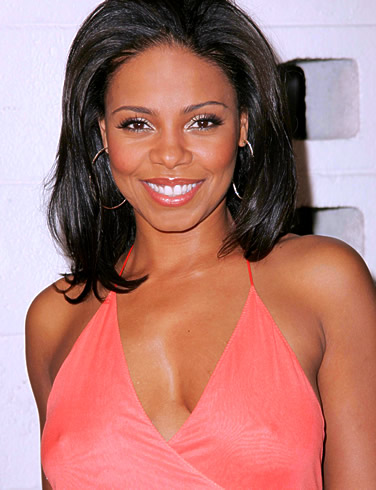 Sanaa Lathan will be the new face of Pantene Pro-V Facial Fusion. I'm excited about that because she's a pretty that I can relate too.
The company says they have adored her hair for years.
Read the story here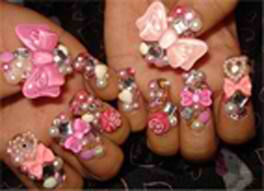 This is a finger-poppin' look, isn't it?
Welcome to 3-D nails, the latest in nail art design.
I've been seeing the rocky finger trend in my nail salon since fall. Women come in and get their nails painted a base white or black and then get their fingers built out into what I like to think are floral jigsaw puzzles. (Speaking of white nails, did you see the article by my colleague, Jenice Armstrong on Amber Rose. Those white nails popped, but I digress.)