Archive: January, 2012
One of my favorite picks of the evening. This gown is edgy and soft at the same time. The tye-dyed ocean blue strapless Monique Lhullier is just about my fave dress of the evening. Major drama. Paula Patton also wore a Monique Lhullier, her's was strapless lemon sun burst yellow featuring a sophisticated mermaid gown. Talk about a showstopper.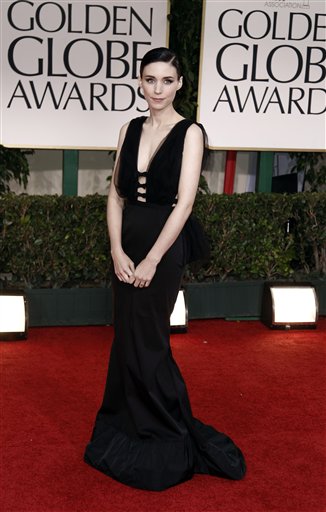 The Twitter world disagreed with me, but I liked Rooney Mara's black Nina Ricci. In fact, I liked all of this year's Golden Globe attendees who erred on the side of noir because the detailing was nothing short of amazing. Mila Kunis' wore a one-shouldered black dress. and Kate Winslet was quite striking in her black on white gown with jeweled belt. But back to Mara's dress, it featured a deep V - which was one of the Globes' runaway fashion trends - and a geometric bodice with square cut outs. Her simple ponytail worked well. It was a different kind of red carpet dress for a different kind of actress.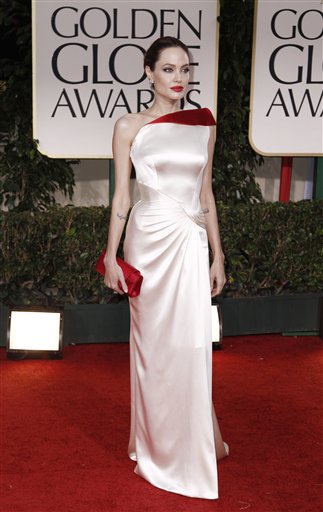 I thought I was over the one-shoulder dress until Angelina Jolie nailed the look in this glowing white dress that fit her like a glove. The pop of red was amazing and sleek. We just love this look. The gown was Atelier Versace. Wonderful choice.
Loving Sofia Vergara of Modern Family's choice of that deep teal mermaid bottom dress a la Vera Wang. Freida Pinto's Prada also errs on the side of the bluish green, but the princess-style silhouette is predictably boring. Isn't teal such a great color for winter awards shows?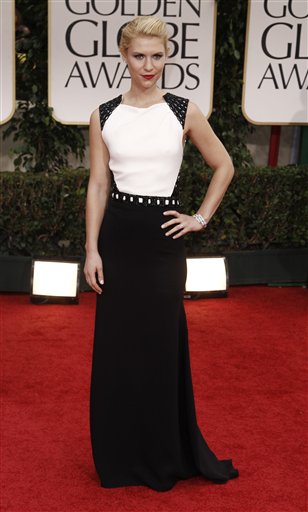 Claire Danes black and white J Mendel has gotten the most Twitter love so far. What do you think? Sleek silhouette and daring back out takes this simple dress from classy to sizzling.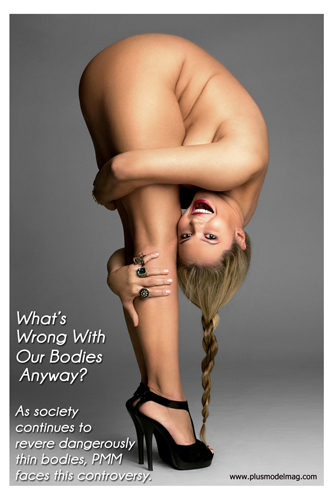 Here is a statistic for you: Most runway models meet the Body Mass Index criteria for anorexia. And here is one you probably knew already: Fifty percent of women wear size 14 or larger, but most standard clothing outlets cater to sizes 14 or smaller.
These and other illuminating figures are featured in the January issue of Plus Model Magazine. In addition to the statistics, plus-size model Katya Zharkova - a solid size 14 -is featured as well. Her curvy body is suggestively juxtaposed next to a runway model, and the result is scary. It made me grateful for my flesh.
As we get closer to New York Fashion Week, this article has made me think about all the tiny models sure to be on the runways. They will be wearing clothing, the majority of which, real people won't be able to wear, but designers insist on making to feed their own egos and cater to their target customer who wants to see - and be - tiny.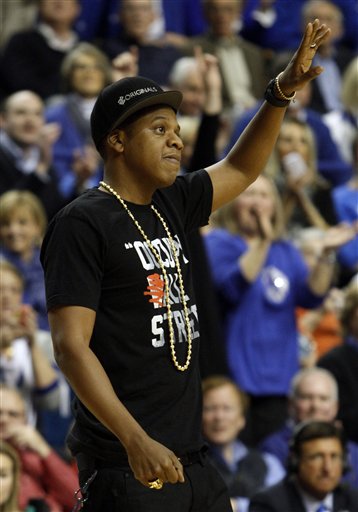 So Jay-Z, the modern day master of misogyny in hip-hop, has decided to stop using the B-word in his lyrics?
He's got to be joking, right?
Shawn Carter - who made millions upon millions upon millions of of dollars referring to women as female dogs over and over and over again, has decided that thanks to his beautiful new baby girl, Blue Ivy, he is going to give up bashing chicks. It's like he just realized that all women are somebody's daughter. Really, now?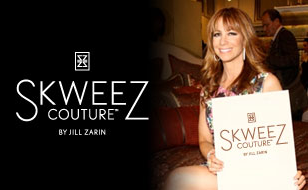 Move over Spanx!
According to the AP, Housewives of New York's, Jill Zarin will return to HSN with her Skweez Couture Shapewear February. With a name like Skweez - a play on the word - squeeze - it's got to work.
Collective "Oh, I get it," here.