Falph Lauren's fall 2013 will be a subdued one. Full of velvet and jodphurs and slinky gowns that glitter. This collection is a beautiful one, proving beyond a shadow of a doubt that sophistication can be soft and cozy.
Oh Oscar, how beautiful your fall 2013 show was. The runway was flush with gowns that sparkled in shiny jeweled tones: reds, purples, chartreuse, you did it all.
Your silhouette was sleeker. Gone were the-cute-going-to-lunch-cinched-at-the-waist a-line dresses that defined your collections the first part of the millennium. In their place, sultry gowns with peplums, sluts and v's in the decolletage.
I feel more grown up just looking at them.
Black reigned on Wednesday's Fashion Week runways. Nanette Lepore's collection was cool and colorless as was former Coach designer, and first lady Michelle Obama favorite, Reed Krakoff. Badgley Mischka's black evening wear didn't need sequins to dazzle and even stylist Rachel Zoe entered the noir zone (And we know how much Zoe loves a white suit.)
Maybe color has run its course? Did we deem saturated shades too hard to wear? Then again, how can we be futuristic in hot pink?
Whatever the reason, black is back and we like its forward vibe. It is sleek, skinny pantsuits, peplum gowns and dresses. Black is smoking in the high-low silhouette and an inky sheath with an artfully placed slit is chic at its best. And we can't forget accessories: sunglasses, shoe-booties, envelope clutches are all must-haves in black.
It's no secret I adore Michael Kors New York Fashion week show.
But Wednesday morning's collection simply was air-kiss beautiful.
We love, love, loved the way Kors took our favorite prints like herringbone and camoflauge prints and gave them unexpected shimmer and shine. His gowns bustled with color.
You don't have to wait until next year to rock the fall trends on this week's New York Fashion Week runway.
Pick up some of these top trends happening now on the designer runways and you can have next fall's futuristic vibe now.
This week's fall 2013 runways at Lincoln Center are full of booties and knee-high socks. There are a bevy of slits and cleavage bursting keyholes. And there is way too much black. How many larger than life gowns does a woman need?
But we've got something for the every day woman.
Check out this dress by DVF. Her collection Sunday was chocked full of sheer, floral magic. There were pantsuits and pencil skirts in hot pink and red.
The world got a preview of designer Thom Browne's fall 2013 women's runway show when first lady Michelle Obama wore his amazing coat during the inauguration. People raved. "How can I get that coat?" My girlfriend asked me.
The print was much more wearable on the first lady.
Much, much more.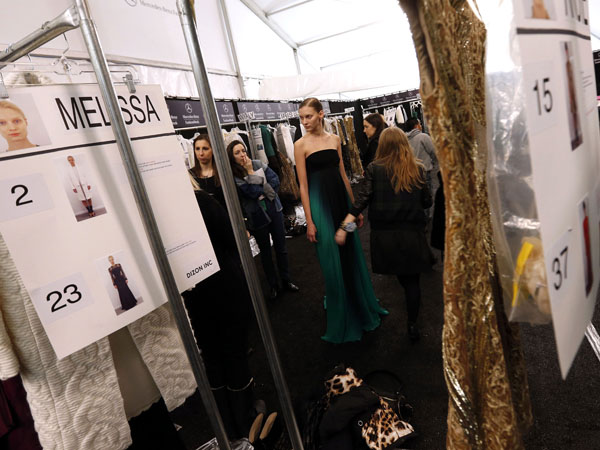 Sunbeams bounce off fashion insider's floral tights and, metallic dresses and shiny clutches as they walk through the tents at Lincoln Center. It's quiet. But then again, it is Sunday morning. We are waiting for the Tracy Reese show to start.