Oh Wow!
The actresses who lit up the red carpet at Sunday night's Golden Globes donned some funkiness.
I think the gowns were amazing. They were swanky. yet classy. We're talking edgy, sexy and totally brimming with personality.
Different.
Some we liked a lot - like Lupita Nyongo's stunning red Ralph Lauren were amazing. The cape added such an element of mystery and fashion sophistication.
And some we didn't like at. all Lena Dunahm's banana yellow Zac Posen. The color was off and trhe tattoos were an awful accessory - talk about not working!
The quiet sophistication of Sunday night's gowns especially the sleeves, the deep v's, and the champagne hues were a breath of stylish fresh air. Each look - except maybe Drew Barrymore's messy maternity florals - represented a quiet sophistication. No two were alike. Every look made a statement, even if it was one I wouldn't make.

Before I go on, however, must give fashion kudows to Tina Fey - who totally nailed it in her Carolina Herrera before she changed into a sparkling wine number. Amy Poehler looked absolutely fabulous. Oh, how I love Stella McCartney. Awkward? These two? No more.
This year Golden Globe fashion was a winner.
Best Dress: Lupita Nyong'o in Ralph Lauren.
Although bold red is so 2013, The cape earned this gown an A+.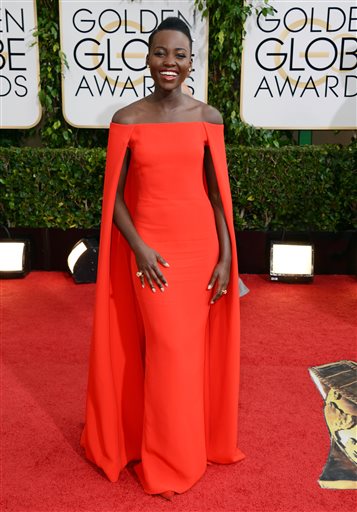 Next up is Zooey Deschannel's Oscar de la Renta. The cropped top and high-low skirt gave the dress a demure and edgy feel. The champagne shade and unabashed sparkle was happy, happy happy. And the creamy, nude pumps are a perfect touch. Way to go, Zooey!
Cate Blanchett's lacy Armani was stone cold hot.The dress is very demure with it's capped sleeves and high neckline, but the back detail is amazing. it's a dress I want to wear. Go Cate! (Will post a pic of the back soonest.)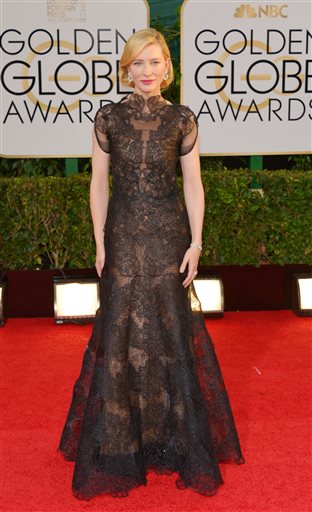 And I'd be remiss not to mention Margot Robbie's slim-fitting winter white Gucci. This gown. This gown, all trimmed in emerald green jewels was truly magnificent. Gucci ruled the red carpet thsi year in chic creativity. Lovely!