This story was originally published on POPSUGAR Home. See it here.
While you might expect Vincent Kartheiser (aka Mad Men's Pete Campbell) to be living large, he has been doing the exact opposite in a 580-square-foot cabin in Hollywood. The real shocker? He recently listed it for $808,000 (the price-per-square-footage math might make your jaw drop)! Featured in Dwell's November Small Spaces issue, the home's small but smartly designed layout is well publicized. Between the coffee table that turns into a fireplace and the impressive suspended bed, there's a chance Kartheiser may get what he's asking for. [image]
The private courtyard includes a sheltered seating area and fire pit. How gorgeous are the light-filtering screens?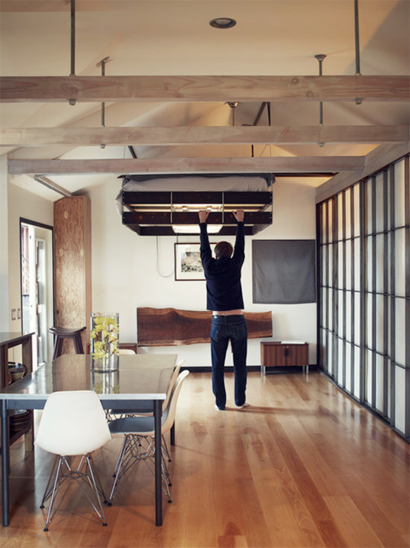 Kartheiser raises his suspended bed every morning to make even more room during the day. The bed's pulley system includes a 300-pound steel weight that's concealed in his closet!