Archive: September, 2011
Chris Mondics
Talk of an impending recession aside, can a recovery in commercial real estate be far behind if a Center City law firm that for the past few years has been touting its distressed real estate practice announces that it has established a new "real estate recovery group?"
This is what Ballard Spahr has done, and it is premised on the idea that commercial real estate is poised for an upturn.
They might be in a position to know. Ballard and other law firms have been doing substantial business in recent years helping to broker transactions involving commercial buildings in some degree of financial distress. The firm says this specialty accounts for a significant share of its overall real estate practice. Now , the chair of the Ballard's real estate department, Michael Sklaroff, says Ballard is trying to position itself for a recovery.
Chris Mondics
Villanova University Law School now is not alone in having to deal with reputational fallout from the disclosure that grades of incoming freshmen were inflated.
The University of Illinois has confirmed that law school admission test scores and grade point averages for its income class had been inflated on its website. The school said Sept. 19 it was investigating the inaccurate admissions data, but offered no explanation of how it happened.
Villanova University disclosed Feb. 7 that admissions data for its incoming law school classes for an unspecified number of years before 2010 had been falsified. Following a six months of silence on the issue, the law school said that the inflated data had been created by a small number of administrators and admissions staff, who are no longer with the school. At the same time, the law school was censured by the American Bar Association, but it was told that it would not lose its accreditation.
Chris Mondics
Sen. Herb Kohl, the Wisconsin Democrat who chairs the Senate Special Committee on Aging, is calling on the Justice Department to focus more attention on abuse of the elderly. Kohl, in a letter to the department's Office of Victims of Crime, pointed out what simple arithmetic makes clear. The burgeoning number of senior citizens over time will, by definition, mean that more and more elderly people will suffer from financial and physical abuse.
Kohl wants the office to add elder abuse to the list of priority items that states can cite in seeking funding.
Social scientists have been slower to pick up on the problem of elder abuse than on the harmful treatment of children, which now receives considerable focus from the federal government. Yet a growing number of studies show that abuse of the elderly is widespread. As many as one in 20 report that money has been improperly taken from them in the preceding year. That would translate into 2.5 million people nationally. Those same studies show that the perpetrators typically are trusted advisers – lawyers or financial advisers.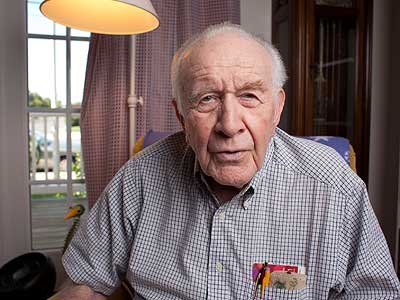 Join Michael Byrne, chief counsel of the Pennsylvania Securities Commission, at 11 a.m. Monday, Sept. 19, for a live Internet chat on financial scams and the elderly. Also in the chat will be Robert McNamara, chief of the Ombudsman Division in the Pennsylvania Department of Aging.
Going mobile? Click here.
This web chat is intended to provide general information on the subject of financial exploitation of the elderly. None of the information should be construed as legal advice. People needing legal advice should consult with their lawyers.
Chris Mondics
Federal District Court judge Christopher C. Conner further stoked passions over President Obama's Patient Protection and Affordable Care Act by ruling Tuesday that a central aspect of the law is unconstitutional.
Conner, a Republican appointee who hears cases in Harrisburg, found that the federal government cannot order U.S. citizens to purchase products against their will. And that is exactly what the law would do. It is arguable whether that is a good idea or not, but it is indisputable that the federal government for the first time in the history of the United States will be telling U.S. citizens that they must buy a product, in this case, health insurance, or pay a financial penalty.
The Obama administration has advanced a number of arguments in support of this policy, most importantly the commerce clause of the Constitution, which gives the government the right to regulate the flow of goods and services between states. The Obama administration says it must compel citizens above a certain income level to purchase insurance in order for the system to work financially.
Chris Mondics
Larry Ribstein, the polymath law professor at the University of Illinois College of Law, playing off an article about computer programs designed to write sports stories, speculates it won't be long before computers will be predicting litigation outcomes.
The law, like sports, evolves along predictable patterns and sorting those out and projecting future outcomes is exactly what computers do. However, one critical human contribution can't be a avoided, he says. Lawyers are needed to create the legal strategy and choose issues that need to be briefed. It's worth noting that speculation about computer generated sports stories began more than a decade ago.
Chris Mondics
The Center City firm of Hangley Aronchick Segal & Pudlin said Monday that it has added partner Ronald Schiller to the name of the firm.
Firm chairman William Hangley said the decision, confirmed by a vote of the firm's shareholders, reflected the view at the 52 lawyer firm that Schiller and other lawyers who joined the firm from DLA Piper two years ago had made substantial business contribution and had blended well with the existing team.
"Ron Schiller and his group had really contributed tremendously to the success of the firm, not only by bringing in business but broadening our client base," Hangley said.
Chris Mondics
If nothing else, the lawsuit filed Thursday by Cozen O'Connor, the Center City law firm, against the government of Saudi Arabia, various Saudi government linked charities and Prince Salman, a member of the Saudi royal family, suggests this litigation is not going away anytime soon.
The firm filed its first suit against the Saudis in 2003 on behalf of insurers who covered commercial property at ground zero and who had lost upwards of $5 billion.
The lawsuit hit a roadblock over the Foreign Sovereign Immunities Act, which sharply restricts lawsuits by U.S. citizens against foreign governments for supporting terrorism. Cozens lawyers, their clients and other firms that also have sued the Saudis maintain that there is ample evidence to hold the Saudis accountable.