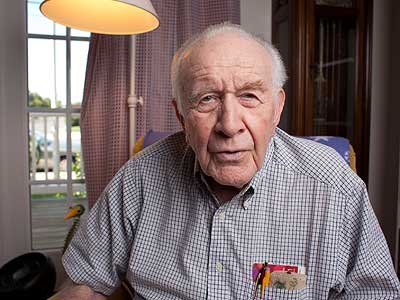 Join Michael Byrne, chief counsel of the Pennsylvania Securities Commission, at 11 a.m. Monday, Sept. 19, for a live Internet chat on financial scams and the elderly. Also in the chat will be Robert McNamara, chief of the Ombudsman Division in the Pennsylvania Department of Aging.
Going mobile? Click here.
This web chat is intended to provide general information on the subject of financial exploitation of the elderly. None of the information should be construed as legal advice. People needing legal advice should consult with their lawyers.
Chris Mondics
Federal District Court judge Christopher C. Conner further stoked passions over President Obama's Patient Protection and Affordable Care Act by ruling Tuesday that a central aspect of the law is unconstitutional.
Conner, a Republican appointee who hears cases in Harrisburg, found that the federal government cannot order U.S. citizens to purchase products against their will. And that is exactly what the law would do. It is arguable whether that is a good idea or not, but it is indisputable that the federal government for the first time in the history of the United States will be telling U.S. citizens that they must buy a product, in this case, health insurance, or pay a financial penalty.
The Obama administration has advanced a number of arguments in support of this policy, most importantly the commerce clause of the Constitution, which gives the government the right to regulate the flow of goods and services between states. The Obama administration says it must compel citizens above a certain income level to purchase insurance in order for the system to work financially.
Chris Mondics
Larry Ribstein, the polymath law professor at the University of Illinois College of Law, playing off an article about computer programs designed to write sports stories, speculates it won't be long before computers will be predicting litigation outcomes.
The law, like sports, evolves along predictable patterns and sorting those out and projecting future outcomes is exactly what computers do. However, one critical human contribution can't be a avoided, he says. Lawyers are needed to create the legal strategy and choose issues that need to be briefed. It's worth noting that speculation about computer generated sports stories began more than a decade ago.
Chris Mondics
The Center City firm of Hangley Aronchick Segal & Pudlin said Monday that it has added partner Ronald Schiller to the name of the firm.
Firm chairman William Hangley said the decision, confirmed by a vote of the firm's shareholders, reflected the view at the 52 lawyer firm that Schiller and other lawyers who joined the firm from DLA Piper two years ago had made substantial business contribution and had blended well with the existing team.
"Ron Schiller and his group had really contributed tremendously to the success of the firm, not only by bringing in business but broadening our client base," Hangley said.
Chris Mondics
If nothing else, the lawsuit filed Thursday by Cozen O'Connor, the Center City law firm, against the government of Saudi Arabia, various Saudi government linked charities and Prince Salman, a member of the Saudi royal family, suggests this litigation is not going away anytime soon.
The firm filed its first suit against the Saudis in 2003 on behalf of insurers who covered commercial property at ground zero and who had lost upwards of $5 billion.
The lawsuit hit a roadblock over the Foreign Sovereign Immunities Act, which sharply restricts lawsuits by U.S. citizens against foreign governments for supporting terrorism. Cozens lawyers, their clients and other firms that also have sued the Saudis maintain that there is ample evidence to hold the Saudis accountable.
Chris Mondics
It's getting harder for plaintiffs in the huge pollution lawsuit against Chevron to argue that the Ecuadoran judicial system is squeaky clean.
They won a multi billion judgment against Chevron in Ecuador earlier this year alleging that Texaco, which later merged with Chevron, had polluted a vast swath of the Amazon rain forest in eastern Ecuador. The case was handled by a team of lawyers in Ecuador financed by the Philadelphia based plaintiffs firm, Kohn Swift & Graf. It has drawn rapt attention in the U.S. following the release of videotapes, made by a documentary film maker, in which the leader of the plaintiffs' team spoke about the corruption of the Ecuadoran system and plans to pressure judges.
Kohn Swift & Graf ended its relationship with the lawyers before the videotapes came out and has since announced it will not accept any fees from the case.
Chris Mondics
Fox Rothschild said Monday that it had hired three intellectual property lawyers for its Los Angeles office, continuing the trend of Philadelphia based firms expanding in the city of angels.
The firm said that veteran intellectual property lawyer Thomas T. Chan will join as a partner, while Lisa A Karczewski will be of counsel, and Steven S. Hangami will join as an associate.
Fox opened its LA office in 2006 in the city's Century City section, and has not only a commercial law practice but a thriving entertainment department as well.
The ongoing expansion by Fox and other Philadelphia based firms might seem counter-intuitive, since California now is struggling to recover from the economic downturn that officially ended in the summer of 2009 but still plagues the golden state and much of the country.
But many of the big firms are finding a way to make it work. Blank Rome for example has been handling numerous commercial real estate workouts. Entertainment law has always been a robust practice, and many of the Philadelphia based firms believe that Los Angeles is a key jumping off point for expanding into Asia.
It is also a place with an awful lot of trade mark and patent disputes are litigated, a point that seems to underlie the Fox Rothschild expansion.

One of Philadelphia's great lawyers passed away on Thursday at the age of 88. Jerome Shestack was a former president of the American Bar Association and had been appointed to the U.N. Commission on Human Rights in 1979 by former president Jimmy Carter. But his resume doesn't come close to describing Shestack's impact on the profession or the high regard in which he was held by fellow lawyers. The Harvard Law grad was known as super smart, and very worldly wise. He was also great fun with a very wry sense of humor and a keen appreciation of human foibles. More shortly on Jerry.
Like it or not, this is Google's world now. We live in an age of Web caches, where it's getting tougher and tougher to keep our pasts to ourselves. But this lawsuit out of Spain asks "Do we have a right to be forgotten?"
Whether it's a harmless tweet or a private bank account number you accidently shared, it's difficult to make information truly go away once it gets online. That is, unless the courts get involved.
About 90 Spanish citizens filed complaints with the country's Data Protection Agency, asking Spain to force Google to remove certain data from its database. The agency ordered Google to stop indexing information for these citizens, and the case is now in court.