Gary Thompson, Daily News Film Critic
Emilion Estevez indie "The Way" expands its run in the Philadelphia area this Friday, adding several screens (including The County, Edgemont Square, Brandywine, Towne Stadium, King of Prussia, Hamilton, Warrington Crossing).
Estevez wrote and directed "The Way," and put dad Martin Sheen in the lead as a father who grieves for a son by taking Spain's Camino pilgrammage, an 800-kilometer trek that concludes with a mass at Santiago cathedral. He shot it on location in Spain and France, and raised some of the money there.
Hollywood wasn't that interested.
Gary Thompson, Daily News Film Critic
Hugh Jackman's boxing robot movie made nearly $30 million over the weekend, trouncing George Clooney's "The Ides of March" ($10 million).
BO Mojo reports that "Real Steel" had the best opening ever for a boxing movie -- besting the $20 million of "Rocky 4."
But is it a boxing movie? I'd say 25 percent boxing, 75 percent sci fi robot brawl, which would place it in more of a "Transformers" genre, where it's no threat to break any record.
Gary Thompson, Daily News Film Critic
The Crowd-pleasing "Fast Five hits DVD this week, one of the better outings in the franchise, with director Justin Lin keeping over-the-top action just this side of ridiculous.
Quentin Tarantino has another special edition of "Pulp Fiction" on Blu Ray, with brand new cast interviews and critics' appreciation. Tarantino's "Jackie Brown" also hits Blu ray. THere's a blu-ray of the zombie movie that made Peter Jackson sort of famous, "Dead Alive." Also "Lion King," coming off its phenomenal theatrical re-release.
Keep an eye out for 'Submarine," a better-than-average teen coming-of-age comedy/drama featuring Sally Hawkins and Noah Taylor.
Gary Thompson, Daily News Film Critic
"Transformers: Dark of the Moon" hits DVD this week, and although fans were generally satisfied, I see no point continuing this series without Megan Fox.
The highlight for me was always the sequence featuring Ms. Fox running from a robot fight in slow motion. Without Megan in the foreground, I am left with only the robot fight, and the appeal of this spectacle remains elusive to me.
Speaking of spectacle, this week also marks the release of a restored "Ben Hur," and not some over-hyped restoration, but a real one. It's a worthwhile upgrade of one of Hollywood's great visual feats.
Gary Thompson, Daily News Film Critic
The good news is that "Moneyball" opened with the second best weekend ever for a baseball movie.
The bad news is that the best weekend ever for a baseball movie belongs to "Benchwarmers," which went on to gross $59 miillion.
"Moneyball" also couldn't displace the re-issue of "The Lion King," and barely beat out "Dolphin Tale," which earned an A+ from audiences tracked by Cinemascore and looks poised for a healthy run.
Gary Thompson, Daily News Film Critic
"Bridesmaids" arrives on DVD after making $170 million in theaters on strong word-of-mouth -- the movie never actually ascended to number one.
Judd Apatow produced, and this time he assembled a cast of female stand-ups and improv comediennes to rival anything in his 'dude" comedies. Kristen Wiig and Rose Byrne compete for maid of honor status at Maya Rudolph's wedding, with support from Melissa McCarthy, Wendi McClendon Covey, others.
As with most comedies from the Apatow factory, this one may suffer a bit on DVD -- the director's cuts tend to lack the editing discipline of the theatrical version, and "Bridesmaids" was plenty long already.
Gary Thompson, Daily News Film Critic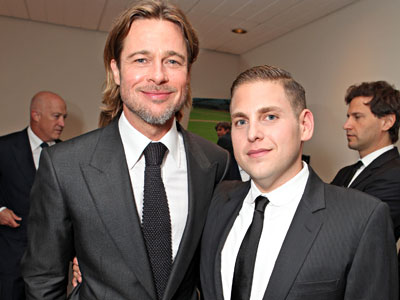 When Jonah Hill was in town to talk about his role in "Moneyball" opposite Brad Pitt, I asked him if Pitt -- so funny in his "True Romance" cameo -- had ever been approached to star in one of the Judd Apatow comedies.
Hill: "'True Romance' is where the idea for 'Pineapple Express' came from. Judd looked at those scenes and went, "What's that guy's story?'"
Hill pointed out Apatow likes to take secondary characters from one movie and spin them off as leads in another -- "Get Him to the Greek" derives from "Forgetting Sarah Marshall." Hill noted that Apatow is making a movie built around the Paul Rudd and Leslie Mann characters from "Knocked Up."
Gary Thompson, Daily News Film Critic
If you missed the "Lion King" 3D this weekend, fret not. The movie performed so well ($29m) that the studio is almost certain to extend its run beyond the original two-week window.
"Contagion" held up, "Straw Dogs" opened weakly, and "I Don't Know How She Does It" fairly bombed -- incredibly, jobless america did not turn out in droves to see a movie about the troubles of a successful investment banker married to a successful architect.
No great loss there, but it's too bad more folks aren't turning out for "Warrior," a nice genre movie.