Archive: July, 2012
Jane M. Von Bergen, Inquirer Staff Writer
One more story about the state's department of Labor and Industry closing its unemployment compensation service center in Philadelphia... another one that is just replete with irony.
Maybe you saw the story in Wednesday's Inquirer -- the news that 75 or more people who process unemployment claims and answer the phones for the laid off will lose their jobs as of Aug. 15. None of the other eight centers in the state will be closed. The state says unemployment claims are down, which is true. The employees were told that rents are too high at their Northeast Philadelphia offices.
I interviewed Kathy Jellison, who heads the Service Employees International Union Local 668 -- the union that represents many of the state workers in the office. She was in the office Monday when the state government officials made the announcements. She said it was one of the worst closing announcements she has ever seen. Her people, she said, were in shock, truly distressed by what they had heard. That's no surprise.
Jane M. Von Bergen, Inquirer Staff Writer
The details of Nicole Cogdell's firing are laid out in a lawsuit -- she believes she was fired because, as an African-American, she did not fit the blond-haired, blue-eyed image that the trendy chain Wet Seal wanted for its King of Prussia mall store. When she told me about it last week, there was a small detail that I kept coming back to, even after Frank Kummer and I finished writing about the case in the Inquirer.
"I was told by my district manager that I was being terminated," said Cogdell, who had been transferred to that store as a promotion from her previous store in Springfield, Delaware County. "She was in tears as she was telling me. We worked very hard together."
Imagine having that job. Of course, you can't assume that the allegations in the lawsuit are correct, but if they are, what happens when your company asks you to do something that is patently wrong? Keep in mind that March 2009, when Cogdell was canned, was a time of extremely high unemployment. No wonder the district manager was crying. Cogdell said the district manager was Hispanic.
Jane M. Von Bergen, Inquirer Staff Writer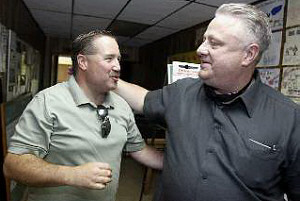 The bargaining involved in the Sunoco refinery was unusual for its mutual respect, desire to succeed and level of collaboration, participants said. Two lawyers involved said they had never experienced anything like it in decades of bargaining, and a member of the United Steelworkers Local 10-1's bargaining committee said the negotiations represented the highlight of his union participation.
"This is the most respect we've ever been shown by a company," said Bill "Rock" Rachubinski, 50, of Philadelphia,
The effort by the union and the company to keep the Sunoco's South Philadelphia refinery open saved hundreds of jobs, with the tone at the bargaining table set by Sunoco's new leader, Brian MacDonald, according to the stories written by my colleague Andrew Maykuth. (Click here to read his story about the Sunoco-Carlyle deal). But the company had a willing partner in the union. (Click here to read my story about the union's role.)
Jane M. Von Bergen, Inquirer Staff Writer
Philadelphia isn't Silicon Valley in California, or Silicon Alley in New York, but Philly's tech community, Alex Hillman told Technically Philly, should strive to be itself, only better -- with its main strength coming in the cohesive, connected relationships the people in the tech community build with each other.
"The end result of [talent density] is success, ultimately in the fact that it's really easy to find people who are not just physically proximal to each other but are also increasingly well-connected individuals. People are here to form relationships, not just sit next to each other," Alex Hillman told the online tech news site. Hillman is co-founder of co-working space Independents Hall that sits at 22 N. 3rd Street.
Click here to read the entire Technically Philly story on Philly's Old City tech community. You can read mine by clicking here, for Sunday's Inquirer piece on the community and here for my Monday Inquirer story on WebLinc, an e-commerce community which also owns the local watering hole, National Mechanics.
Jane M. Von Bergen, Inquirer Staff Writer
WebLinc, the e-commerce software design company with its offices above the National Mechanics bar on North Third Street is growing so fast that co-founder Darren Hill is worried about keeping the company's funky, relaxed culture intact.
The company has doubled in size in the last few years and now employs 82, with plans to hire more, I learned when I interviewed Hill for a story on the company in Monday's Inquirer. It was a follow-up to my Sunday story on the tech corridor along Third Street.
Here's one company tradition that Hill absolutely plans to maintain. Every Friday at 4 p.m. there's a company meeting. People update each other on their projects and whatever sales initiatives are happening are discussed. But the pressure is on for new employees. Each employee must give a 15-20 minute presentation about himself. "It's become a little bit of a fun process," he said.