Archive: March, 2013
Jane M. Von Bergen, Inquirer Staff Writer
After a couple of rough years, things are looking up for college graduates, says John Challenger, who heads the Chicago outplacement firm of Challenger, Gray & Christmas.
To take advantage of the growing job market, seniors should take a broader look at career possibilities.
"Graduates should not confine their searches to a specific industry or occupation," he wrote in a statement. "The job market is not robust enough to provide the ideal job situation for every individual. It seldom is. So, someone may come out of college with the plan to find a marketing position with a consumer products company. There's nothing wrong with having a specific goal like that, but don't make the mistake of adhering to it so closely that you overlook opportunities in marketing for a chemical company or health care provider, for example."
Jane M. Von Bergen, Inquirer Staff Writer
Mykal Derry, the U.S. Attorney said, ran an efficient business operation, dealing heroin, cocaine and prescription drugs -- as much as a million dollars worth -- in Atlantic City.
As a crime story, it's impressive -- 25 arrested Tuesday, 34 charged -- with the main points laid out at a Camden press conference hosted by New Jersey's U.S. Attorney, Paul Fishman. But as a business writer, I was also impressed by the complexity of the organization. It rivaled much of what I've seen in two decades of reporting on companies and their business practices. You can read an account of the criminal side of the story written by my colleague Joseph Gambardello.
Derry, 32, set up a complex organization that included distributors, suppliers and couriers.
Jane M. Von Bergen, Inquirer Staff Writer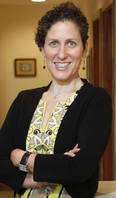 Feeling sexually harassed at work? Experiencing racial, age, gender or disability-based harassment? The first step, advises employment lawyer Patricia Barasch, is a common-sense one. Tell the person doing the harassment to stop.
Barasch is a partner in Schall & Barasch in Moorestown and the president of the National Employment Lawyers Association, an organization specializing in representing individuals at the workplace.
Barasch said the message needs to be clear. Once you have decided you want the behavior to stop, you can't pretend it's OK or a joke. "You have to be unambiguous and clear that you want the behavior to stop. You have to tell him to stop," she said.
Jane M. Von Bergen, Inquirer Staff Writer

Doing your job and doing it well is the best way to stay out of trouble at work, advises Patricia Barasch, a Moorestown attorney who heads the National Employment Lawyers Association, a group of lawyers specializing in representing individuals in workplace cases. Here's the next tip: Watch what you sign
When you get a job, be careful about the paperwork you sign, especially in the honeymoon glow of initial employment. Barasch said her organization has seen a national trend toward companies requiring employees to sign documents that give various rights.
There are two common documents that can pose problems later:
Jane M. Von Bergen, Inquirer Staff Writer
When Christe McGowan first started as the director of dining services at Medford Leas nine years ago, she had to build a constant pipeline of high-school-aged dining room servers, coffee shops attendants and sanitation attendant (that's the dishwasher!) to replace seniors going off to college.
She still has to do that, but there is a way that today's tough economy is making her job a little easier.
It's easy enough to quote economists and college professors about the big-picture macro effects of the economy, but I really love it when I meet someone like McGowan who can illustrate one of the myriad of little ways that the recent brutal recession has changed our work world. McGowan was talking to a steady stream of teenagers Tuesday at the summer job fair held at Lenape High School for the Lenape High School Regional District. She was one of 40 employers looking for summer help and she was aiming to recruit about 50 teenagers for anticipated job openings in July and August. (You can read my story about it by clicking here, along with two related blog posts, here and here.)
Jane M. Von Bergen, Inquirer Staff Writer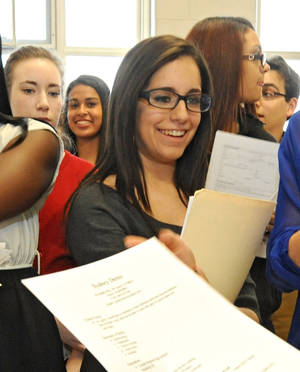 Hundreds of teenagers hustling to get summer jobs: How many of them will end up getting ripped off or harassed by their employees?
Last year, Sydney Demo, 15, a sophomore from Mt. Laurel, was one of them. I met Sydney on Monday at Lenape Regional High School District's second annual job fair. (Read my story and blog post about the job fair.) Sydney seemed poised and personable. Professionally dressed, she looked like any young career woman, I might encounter in any office around the region.
When she worked at an area restaurant, she said, her pay checks bounced and one of the male managers made her feel creepy with the attention he paid to her.
Jane M. Von Bergen, Inquirer Staff Writer
Here's a man who knows how to turn a summer job into a higher calling.
"You'll be able to impact a lot of lives," Jamie Blackwell told a crowd of teenagers gathered around his table at the Lenape Regional High School District's second annual job fair Monday. His table was by far the busiest at the fair, held at Lenape High School in Medford. You can read my story about the job fair by clicking here.
Blackwell sounds like he's polishing a halo, but he wasn't talking about an institution with some noble mission to make people healthier, or more educated. He was talking about jobs operating amusements and rides at the Funplex Center in Mt. Laurel, an amusement park. "For me, it's about making a lot of kids happy." Blackwell pointed to other employers at the job fair and told the teenagers that many of those jobs would provide a pay check, but working at Funplex would be much more satisfying.
Jane M. Von Bergen, Inquirer Staff Writer
Usually, by the time employment lawyer Patricia Barasch sees her clients, they are in trouble. But, she said, there is a lot employees can do to avoid trouble on the job.
Over the next few days, I'm going to pass on hints from Barasch, who, besides practicing law in Moorestown with her partner Richard Schall, heads the National Employment Lawyers Association, a professional group for lawyers who specialize in representing individual employees.
Here's the first hint, and the most obvious one: "Do your job and do it well," Barasch said. "You don't want to give your employer an excuse to get rid of you."