Archive: March, 2012
Jane M. Von Bergen, Inquirer Staff Writer
"People don't walk around with the memory of a cylinder formula in their head," writes a reader and he's right. He raises a question about what constitutes basic knowledge that we all should bring with us to the job, and for that matter, life. And, conversely, what does an employer owe in terms of training?
The same question occurred to me last week as I researched the concept of shop math for a story that appeared in Sunday's Inquirer. (You can click here to read it and here to try your hand at shop math.) I had been intrigued when I met so many manufacturers who complained that job applicants couldn't handle simple math skills, let alone the more complex operations that are part of advanced manufacturing.
That's math. For example, is the Microsoft Office Suite of programs (Word, Excel, Power Point) now so ubiquitous that it should be part of our every day treasure chest of skills, if we plan to work in an office? Wouldn't using a ruler be just part of common knowledge? What about standard grammar? What about forms of manual dexterity? Can you readily manipulate a screw driver, for example? Is the ability to handle email and a simple Google search a basic skill?
Jane M. Von Bergen, Inquirer Staff Writer
Why would AlliedBarton Security Services, the Conshohocken-based security guard company, give the names, addresses and phone numbers of its Philadelphia employees to the Service Employees International Union, SEIU Local 32BJ?
That's a question that the Philadelphia Securities Officers Union posed to David Chapla, director of labor relations. The PSOU represents AlliedBarton guards who work at Philadelphia Art Museum. On April 11, about 110 University of Pennsylvania security officers, including the yellow-vested bicycle patrol, will be voting on whether to accept the PSOU as their union. If the union wins the election, the PSOU will represent 250 security guards.
"Our lawyer asked if we could have a similar courtesy," said Fabricio Rodriguez, who serves as the union's administrator. So far, he said, the company has declined to reply.
Jane M. Von Bergen, Inquirer Staff Writer
Easy enough to slam business owners or paint them as heartless capitalists working to milk their companies by dis-investing in their equipment or people. But so far this year, I've heard from two business owners who, out of loyalty to their employees, delayed layoffs beyond the point of fiscal wisdom.
These two owners ran smallish manufacturing businesses, and over time, developed deep loyalties to their employees. They knew their families, attended weddings, threw holiday parties. And when times got tough, all they could see was the suffering they'd cause through layoffs. So they did all they could to avoid the layoffs, often cutting their own salaries, or cutting back on other aspects of the business.
In one case, the company is still in business, but barely. Luckily, the economy is heating up enough to fan the embers of what would have been a dying concern, allowing this company, perhaps to survive.
Jane M. Von Bergen, Inquirer Staff Writer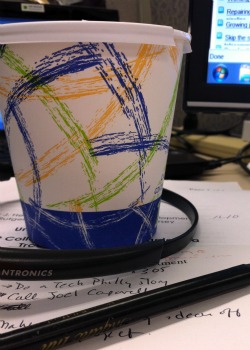 What if a sustained focus on safety changed everything in a sagging business? That's what happened at Alcoa, when Paul O'Neill took over in 1987 and it's one of the most fascinating chapters in the "The Power of Habit -- Why We Do What We Do In Life and Business," a book by New York Times writer Charles Duhigg.
Investors at an initial meeting with O'Neill were confused when he started talking about worker safety. At the meeting, some started asking the usual questions about inventories and capital. One analyst immediately called his clients and suggested they sell the stock.
"I'm not certain you heard me," Duhigg wrote, quoting O'Neill. "If you want to understand how Alcoa is doing, you need to look at our workplace safety figures. If we bring our injury rates down, it won't be because of cheerleading or the nonsense you sometimes hear from other CEOs. It will be because the individuals at this company have agreed to become part of something important: They've devoted themselves to creating a habit of excellence. Safety will be an indicator that we're making progress in changing our habits across the entire institution. That's how we should be judged."
Jane M. Von Bergen, Inquirer Staff Writer
Do you work in an office? Do you spend $195 a week on all expenses associated with your commute, plus purchases that you make nearby your building or on you way to and from work? Can't imagine it, really, even with the cost of gasoline being what it is.
The statistics come from the International Council of Shopping Centers, the real estate arm of the retail sector. The ICSC is trying to get retailers and restaurant businesses to open near offices. It says that in the aggregate office workers spend $184 billion on meals, goods and services near their offices and they tend to spend more if there are more stores and restaurants nearby.
Suburban office workers spend the most, $227 a week on average. (How much do these people earn????) Urban office folks spend $166 and small-town and rural workers spend $143.
Jane M. Von Bergen, Inquirer Staff Writer
Last night I dreamed about search engine optimization. What a nightmare. Not the dream, but the idea of dreaming about search engine optimization. (Definition: Working to become one of the top listings on Google.) The seed for my dream was planted by Wil Reynolds, the founder of a search engine optimization company in Philadelphia, who said, essentially that he wants applicants to optimize their way into a job.
"Screw the resume and show me what you've done," said Reynolds, who runs SEER Interactive, a company niftily housed in a church. (Or should it be churched in a former a house of worship?) He said he's been talking lately to an 18-year-old from Tampa, whose blogging is all about the topic. He had no idea that the person on the other end of the blog was a high school student until they had gotten to know each other. Now Reynold's hoping this high school senior goes to Penn so he can snag the whiz-kid as an intern.
Reynolds said he wants people who are passionate about search engine optimization, which is essentially a passion about scoping out Google Inc.'s algorithms and figuring out ways to test them.
Jane M. Von Bergen, Inquirer Staff Writer
Workplace violence makes headlines, but day-to-day, workers are more impacted by injuries that occur in the line of duty. One of the groups most likely to be injured are healthcare workers, with 489.4 incidents for every 10,000 workers. Over-exertion causes half those injuries.
Looking at specific causes, nursing aides, orderlies and attendants have the highest incident rate of musculoskeletal disorders (249 incidents per 10,000 workers) compared to all other occupations, including construction workers, the U.S. Labor Department reported last year. That incident rate rose by 10 percent, meaning, perhaps, that these workers are being asked to do more with less help. The number of days-away-from-work cases increased four percent for women in the healthcare industry, part of an increasing incident rate for women injured on the job, the U.S. Labor reported.
The prescription for to prevent workplace violence, according to Bill Whitmore, chairman of AlliedBarton Security Services in Conshohocken, is a workplace atmosphere of openness, where employees feel free to report incidents and behaviors that concern them. Whitmore makes that point repeatedly in his book "Potential: Workplace Violence Prevention and Your Organizational Success." (You can read my Inquirer story about his viewpoint by clicking here.)
Jane M. Von Bergen, Inquirer Staff Writer
There's been a lot of talk about the skills gap in the education/job pipeline, but Michael A. Lucas, the administrative director, aka, the principal of the North Montco Technical Career Center (aka, the vo-tech high school) told a group of local manufacturers on Wednesday that he'd do everything he could to close that gap.
The school's curriculum, he said, "is driven by industry and business input." If the region's businesses say they need workers trained on particular software or machinery, that can happen quickly. "It doesn't have to go into committees," and become mired in red tape for months. "We can customize that curriculum," he said.
Lucas also said that if a manufacturer comes and promises to guarantee a slot to a student who does "X-Y-Z," his school, located outside of Lansdale, will make sure it trains a student to be a pro at whatever "X-Y-Z" is. Other vo-tech schools will do the same, he said.