Archive: March, 2013
Jane M. Von Bergen, Inquirer Staff Writer
Why isn't arena football as popular in the U.S. as its NFL counterpart?
As a non-fan, I can't see the allure of freezing to death in a cold stadium for an NFL game. As for television, it seems to primarily benefit tavern owners, since the game goes on forever -- giving it a high beer/yards played ratio. What's wrong with a fast-paced game played in a comfy environment?
Yet, sports fans like my boss, a former sports editor, simply dismiss the game. And since we all try to understand our bosses (isn't that called managing up?), I called up an expert at Temple University for help. It was part of my research for a story I wrote about a group of local investors' plan to bring arena football to China.
Jane M. Von Bergen, Inquirer Staff Writer
I promised an update on this morning's Philadelphia City Council vote on a measure requiring most employers to provide some paid sick leave. City Council passed the measure, voting on it before total chaos ensued in its chambers over the budget.
The vote was 11 to six with council president Darrell Clarke joining Bill Greenlee, Curtis Jones, Maria Quinones-Sanchez, Cindy Bass, Marian Tasco, W. Wilson Goode, Jr., Bobby Henon, Kenyatta Johnson, Jannie Blackwell, and Blondell Reynolds Brown in favor. Mark Squilla, Brian O'Neill, Bill Green, Dennis O'Brien, James Kenney and David Oh voted no.
City Council narrowly passed a paid sick leave bill in 2011, but didn't have enough votes to override Mayor Nutter's veto. An override requires 12 votes.
Jane M. Von Bergen, Inquirer Staff Writer
Will Philadelphia's labor and activist community be able to draw 1,000 people to the rally scheduled for noon today at City Hall?
The issues, from the labor side, are numerous:
The lack of a contract between the city and its public employee unions. Until recently, it seemed as if no news was good news for employees as they continued to work under an old contract that is probably more generous than can be negotiated in this atmosphere. Still, it is hard to go without a raise. Alarming to the unions is the imposition of new employment terms outside the contract. The city is seeking court approval to impose the terms -- which include a raise. The issue is the unions' losing the right to collectively bargain their contracts. That's a huge issue.
Jane M. Von Bergen, Inquirer Staff Writer
Just in time for the potential vote in Philadelphia on paid sick days legislation is the monthly report from the U.S. Labor Department on compensation costs. Reading through the report makes it easy to see why restaurant workers and restaurant owners are lining up on opposite sides of this legislation.
For most private employees, the U.S. Labor Department said Tuesday, all paid leave amounts to 6.9 percent of compensation.
Obviously wages are the largest component of a workers' compensation package -- 70.3 percent for most private sector workers. Various benefits and mandates account for the rest. After wages, legally required benefits, such as Social Security payments, add up to 8.2 percent of wages. Health insurance is next at 7.7 percent and paid leave follows that. Paid leave includes vacation, holidays and sick pay. Of those, vacation costs were the most expensive at $1.03 an hour for the average employee. Sick pay was 25 cents per hour.
Jane M. Von Bergen, Inquirer Staff Writer
New Jersey's Department of Labor and Workforce Development announced a program today to help unemployed pharmaceutical workers retrain for new jobs.
Businesses can receive up to $14,000 over six months if they are willing to retrain and employ former pharma workers from approved locations of Bristol-Myers Squibb, Hoffman-La Roche, Johnson & Johnson, Merck & Co., and Pfizer companies.
The federal grant, received in October 2010, is being managed by the Life Sciences Talent Network at BioNJ. The grant is only available for a limited time, the labor department said in a press release issued Monday afternoon. The BioNJ folks will help screen potential employees.
The construction trades have been hammered throughout the recession, but Friday's U.S. Labor Department report showed great progress for the beleaguered sector. Hiring was up by 48,000 jobs from January to February. This is the ninth month of steady job growth.
You may wonder how construction hiring can be up in the winter: The analysts at the U.S. Labor Department produce two sets of numbers, both from a survey of employers. One set of statistics is evened out, factoring in weather and traditional employment patterns. Those statistics are known as "seasonally adjusted." The straight results from the survey are known as "not seasonally adjusted." But even those numbers are up by 28,000, showing the health of the sector.
Using the seasonally adjusted figures (as most commentators do), most of the growth in construction is happening at the specialty trade contractor level doing work in homes. That alone is responsible for 17,100 jobs, the biggest single chunk of the 48,000 jobs. Up from 5.4 million a year ago, some 5,784,000 were employed in construction in February. But that's two million fewer that worked in construction in 2006, before the start of the recession.
Jane M. Von Bergen, Inquirer Staff Writer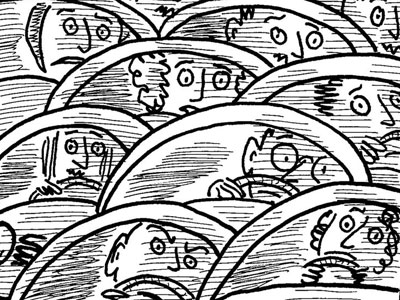 Starting Monday, I'll be returning to my car to commute across state lines to the Inquirer's office in Cherry Hill. That's why I read the recent U.S. Census report on commuting with more than passing interest.
In driving from Philadelphia, where I live, to Cherry Hill, I'll be bucking the trend for Pennsylvanians. Not surprisingly, given the size of our state, only a minority of us travel across state lines to work. By contrast, one in six New Jersey types, and slightly more from Delaware, work outside their home states. One in four Americans work outside their home counties.
My commute to Cherry Hill should take me about 45 minutes, nearly double the average commute of 25.5 minutes. Thank God, I'm not among the 10.8 million people who travel an hour or more to work, or the mega-commuters like my friend Donna's daughter, who travels from Philadelphia to Newark by car and train, a commute well over 90 minutes. There are 600,000 people like her, the U.S. Census says. For years, one of my neighbors commuted to Manhattan. Why? He couldn't afford a house large enough to hold his family of eight daughters and a son. In Philly, his family filled a roomy twin.
Jane M. Von Bergen, Inquirer Staff Writer
As someone who covers unemployment, sometimes all I want to do is hang my head and sigh. What should be an uplifting day of news of positive job growth from the ADP pay roll processing company is offset by a report from a news outlet in Hazleton, detailing the effects of sequestration on the Tobyhanna Army depot.
Let's start with the good news. ADP, which tracks private sector employment, reports 198,000 new jobs in February. The jobs were spread across all sectors and even included more hiring in big firms with 1,000-plus employees. Construction was up, as was manufacturing.
Bucks County economist Joel Naroff had this to say: "I don't want to keep beating a dumb politician (or politicians) but the only hurdle left to strong economic activity is the chaos in Washington. The stock market is hitting new highs, the housing market is strengthening and if job gains are accelerating, there will be little doubt that the private sector is in pretty good shape. Only the public sector doesn't get it."