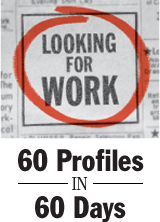 49/60 For a white-collar guy in information technology, John Malack, 51, of Quakertown, has unusual credentials: a hazmat truck driver's license for flammable materials.
That's because several times a year, Malack climbs behind the wheel of a truck and hauls a load of fireworks to wherever he and his crew are putting on a show.
Ever been at Cape May on July 4? It's Malack and his crew lighting the skies from a barge off the beach. "You have to respect it," he said. "You can never get too comfortable because there's a lot of potential trouble."
If some firm would hire Malack to do his real work, maybe he would also stage fireworks at the company picnic.
Malack's real work is harder to explain, but it involves lots of coordination and organization.
Until he was laid off in November, Malack worked for Hewlett-Packard as a project manager on the service end. Hewlett-Packard would land a contract to service computers and printers at a company. Many of those computers were Hewlett-Packard products. But companies also had equipment from other manufacturers, such as Dell, and they expected service for those machines, as well.
It was Malack's job to make sure that Hewlett-Packard technicians were properly certified to handle all the repairs. He also achieved and maintained warranty goals of More than $7 million and handled material planning and inventory control. Very calm, he was entrusted with the most complex customer-service issues.
"They outsourced our group to Costa Rica," Malack said. "I had to train two or three employees to do my job.
"There is a tax advantage to Hewlett-Packard," he said. "It's not about my ability, my productivity, my seniority."

JohnMalack

Hometown:

Quakertown

.

Profession:

IT project manager

.

Experience:

Managed warranty services, inventory,
and materials, and a $3M inventory
of computer parts and products.

.

Education:

Gwynedd-Mercy College -
bachelor's in history,
minor in marketing

.

E-mail address: johnmalack@yahoo.com

John Malack's

LinkedIn page

Sometimes mergers lead to layoffs, but Malack survived several of those. In 1984, he worked for Digital Equipment Corp. in Blue Bell until it was purchased by Compaq Computer Corp. Then he worked for Compaq until Hewlett-Packard bought it in 2002.
These days, he keeps busy looking for jobs and volunteering. His wife has a part-time teaching job. They have two children, age 5 and 3.
He liked his work at Hewlett-Packard. "I would like to be involved in something similar - where I'm working on a global level," he said. "I really don't want to drive a tractor-trailer."
---
The Inquirer is not endorsing this individual as a job candidate; potential employers should conduct their own background checks.
---
Contact staff writer Jane M. Von Bergen at 215-854-2769 or jvonbergen@phillynews.com.