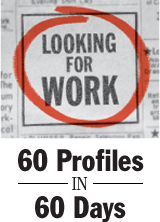 59/60 Sharon Richman has looked at life from both sides now, and finds herself wanting to return to the nonprofit side.
"Even though nonprofits need to run like businesses, because you have to pay attention to how you manage staff, how you deliver services," said Richman, 57, of Penn Valley, "the ultimate aim is not profit-making at all. It's to provide a service."
Although she has been consulting since then, Richman's last full-time nonprofit job ended in 2004.
When a friend asked her whether she'd like to manage a new knitting store, Richman, who had built a 30-year career in nonprofits, took a deep breath and said yes.