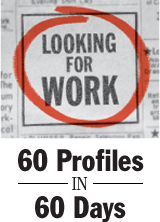 59/60 Sharon Richman has looked at life from both sides now, and finds herself wanting to return to the nonprofit side.
"Even though nonprofits need to run like businesses, because you have to pay attention to how you manage staff, how you deliver services," said Richman, 57, of Penn Valley, "the ultimate aim is not profit-making at all. It's to provide a service."
Although she has been consulting since then, Richman's last full-time nonprofit job ended in 2004.
When a friend asked her whether she'd like to manage a new knitting store, Richman, who had built a 30-year career in nonprofits, took a deep breath and said yes.
"It was a lot of fun," she said. "It was a lot of work."
The Knitting Store opened in a Cherry Hill shopping center in 2004, but the store never did get its name up on the main shopping center sign. So Richman improvised. She parked her car in the lot near Route 70 and hoisted a sandwich board sign on top.
Marketing money was nonexistent, so Richman offered discount knitting classes at the store to adult education groups in return for a listing in their course brochures. One brochure "was delivered to every family in Camden County," she said. "That was free advertising.
"It was in 2007 when we started to see the signs of the recession," said Richman. "We never got to the point where we were strong enough to make it." The store shut in March 2009, and Richman, as manager, qualified for unemployment benefits.
Now, Richman wants to return to nonprofits. Meanwhile, she has occasional consulting gigs in nonprofit management and fund-raising.
Her last full-time nonprofit job was for Albert Einstein Healthcare Network as a development officer specializing in volunteer relations.
Nonprofit jobs also require an aptitude for marketing.
Update: As of December 2011, Richman is working two parttime jobs, one in retail and the other in her field in nonprofit management. She still is looking for work in her field.

SharonRichman

Hometown:

Penn Valley

.

Profession:

Nonprofit manager, fund-raiser

.

Experience:

Grant-writing, fund-raising,
prospect research; developed a retail
store with a silent partner.

Education:

Temple University -
master's in social work

.

E-mail address:

Sir4531@gmail.com
Sharon Richman's LinkedIn page

For example, early in her career, Richman executed a campaign that raised $5 million to help Soviet Jews settle in Israel. One idea? Holding Jewish wedding ceremonies for Philadelphia's Soviet Jews, who had a civil wedding but not a religious one. Guests would give gifts to the campaign instead of to the couples. The media loved it.
"When people get involved with a particular organization," she said, "they understand what the organization is about and they are more inclined to financially support it."
---
The Inquirer is not endorsing this individual as a job candidate; potential employers should conduct their own background checks.
---
Contact staff writer Jane M. Von Bergen at 215-854-2769 or jvonbergen@phillynews.com.