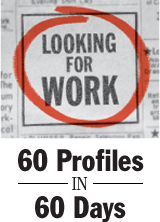 38/60 Used to be that if you wanted a job, you used a little shoe leather, knocked on doors, dropped off applications and waited to see what happened.
That's how it worked in the past for Michael Wilkinson, 47, a laid-off truck parts salesman and sales manager from Levittown. But not now.
"Thank you letters?" he said. "I had no idea. I just found that out today. I've been hiring and firing people for years and never did I get a thank-you letter."
Lots has changed in the job hunting world.
Never put a graduation date on resume. Use search engine optimization tips to maximize matches with online postings. Sign up for LinkedIn. Network. Network. Network. It's all a mystery if you've always landed a job the old-fashioned way.
"It used to be quite easy to find a job," Wilkinson said, "But now I've been unemployed since August.
"This is all new to me," he said. "I'm getting ready to rent an airplane with an advertisement, like they do down the Shore."
Wilkinson got into the trucking business right out of high school. His father, a truck driver, saw a help-wanted sign in a repair shop. Wilkinson got the job.
For 24 years, he worked at CCC Heavy Duty Truck Parts Co. in Bensalem, rising to branch manager. That was his favorite job.
Besides executing the daily operations of a truck parts distribution center, he requisitioned stock, and hired mechanics and counter help.
When he started in 1983, the store was doing $800,000 in annual sales. He built it to $2.4 million.
Then, his young son developed problems and Wilkinson had to cut his hours. In 2007, CCC laid him off. "I definitely miss my old store," he said. He thinks they'd hire him back if there were an opening.
Wilkinson quickly managed to get his son's issues under control and also quickly managed to get more work in the same field.
Update: After the profile, Wilkinson landed a job, but it mysteriously and abruptly ended. Now he's back looking for work. He lost his house to foreclosure.

MichaelWilkinson

Hometown:

Levittown

.

Profession:

Truck parts sales, sales manager

.

Experience:

Sold truck parts; hired,
fired and trained workers;

traveled to solicit orders.

Education:

High school graduate

.

E-mail address:

Mwilkin1@gmail.com


Eventually, though, the economy caught him. Consumer spending slowed. Less merchandise moved around the nation. Parts on trucks driven fewer miles didn't wear out as often.
Sales diminished, and so did Wilkinson's opportunities, except for a few side jobs.
His wife needs to be at home to take care of their two children, especially their son. "She hasn't worked for 10 years," he said.
It's humiliating to get help from his father, but when the rent comes around, it's a necessity. The family also relies on food stamps.
"I never thought I'd be down to that level," he said. "But thank God, they are there."
---
The Inquirer is not endorsing this individual as a job candidate; potential employers should conduct their own background checks.
---
Contact staff writer Jane M. Von Bergen at 215-854-2769 or jvonbergen@phillynews.com.