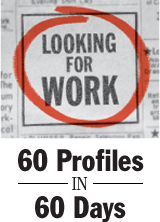 19/60 As companies laid off oceans of employees during the recession, Cigna Corp. and other health insurers experienced a ripple effect that was more like a tsunami.
Unable to afford premiums, the unemployed dropped health coverage. Meanwhile, their former employers simply had fewer people to insure. Insurance companies responded with their own massive layoffs.
That's the wave that knocked William K. West, 63, off his feet and out of his job in corporate communications at Cigna after 16 years. He was laid off in January 2009.
Mostly, West specialized in internal communications, but in the last few years, he worked for a small separate unit, handling all aspects of communication, including media relations.