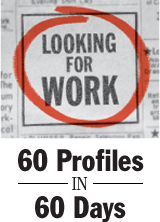 19/60 As companies laid off oceans of employees during the recession, Cigna Corp. and other health insurers experienced a ripple effect that was more like a tsunami.
Unable to afford premiums, the unemployed dropped health coverage. Meanwhile, their former employers simply had fewer people to insure. Insurance companies responded with their own massive layoffs.
That's the wave that knocked William K. West, 63, off his feet and out of his job in corporate communications at Cigna after 16 years. He was laid off in January 2009.
Mostly, West specialized in internal communications, but in the last few years, he worked for a small separate unit, handling all aspects of communication, including media relations.
"I like everything about writing," he said. "It's very comfortable for me to pick up a pen and start fooling around on a piece of paper. I love to solve communications problems."
West has also edited a mix of magazines, including the University of Pennsylvania's Wharton Magazine, the American Kennel Gazette, and Progressive Grocer. "I enjoy going into supermarkets," he said, "because I know a certain amount of what's going on behind the scenes."
Unemployment has been tough. How has the job hunt gone? "The one-word answer is slow, and the two-word answer is very slow," he said.
He has been in the final round of two or three candidates a few times, "but that doesn't get you the job," he said.
He is currently doing some freelance writing and editing, but not enough to pay the bills.
"Between my wife's job and my unemployment benefits, we're making less than half" of the family's previous income. His two children are grown and on their own.
"Basically, this was the period of time that we were going to be saving money for retirement," he said.
Update: As of December, 2011, West is enjoying his parttime work as a writer and editor.

WilliamWest

Hometown: Philadelphia.

Profession:

Writing, editing, corporate communications

.

Experience:

Directed corporate publications;
edited magazines; edited a
12-volume academic dictionary.

Education:

Columbia University -
master's in philosophy,
medieval history

.

E-mail address:

WilliamKWest@gmail.com
William West's LinkedIn page
But bad things happen. "In the last month, an [electrical] outlet blew up. A bed was soaking wet, so we need a new roof. So now," he said, "our cushion is a little thinner than it was."
Like many other jobless people, West spends some of his time volunteering. He tutors at Mighty Writers, an after-school program focused on writing. He also works for advocacy organizations, including political campaigns and the Philadelphia Unemployment Project.
Having completed 10 marathons himself, he serves as a volunteer runner at Back on My Feet, a running and rehabilitation program for people in homeless shelters.
---
The Inquirer is not endorsing this individual as a job candidate; potential employers should conduct their own background checks.
---
Contact staff writer Jane M. Von Bergen at 215-854-2769 or jvonbergen@phill