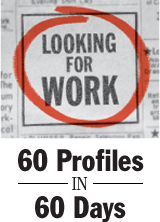 10/60 Brian J. Weirauch had a very strange December. He was relaxed - well, somewhat.
Ever since Weirauch, 49, graduated from college and started in retail management, the last month of the year would be an exhausting blur of long days, late nights, and early mornings.
The good news is that he's not working as a retail store manager. That's also the bad news, which is why a relaxing December wasn't as enjoyable as it should have been.
"The worst part of being unemployed is the uncertainty and the anxiety," said Weirauch, who lost his last store manager's job in November 2009. "It's the anxiety over the uncertainty."
Now, Weirauch, who resides in Marlton, finds himself with a dilemma. He's familiar with retailing and would not mind getting back into it as a merchandiser with the responsibility for helping a food company or some other manufacturer make sure its products are in the right place and properly stocked in a store.
On the other hand, he scored well on New Jersey's Civil Service Commission examination. That makes him qualified as an adjudicator, determining who would be qualified for disability payments from Social Security, a federal program administered by the states.
"I feel I would be good at it," he said. He thinks the medical issues would be interesting. The benefits and hours would be better.
But, there needs to be a job opening, and so far, none exists.
The state job wouldn't have the hustle-bustle of retail, but serving people is the element that both jobs share.
Update: As of December 2011, Weirauch was working fulltime as a merchandiser.
BrianWeirauch

Hometown:

Marlton

.

Profession:

Retail merchandiser, civil servant

.

Experience:

Store manager
in 3 drugstore chains, including
one store with $8 million
in sales. Scored well on
N.J.civil service exam

.

Education:

Rowan University - bachelor's
in business administration.

E-mail address:

weirauch0621@verizon.net
"Dealing with the customer is definitely the best part of retail, and it can be the most difficult," Weirauch said. "But if you treat people the way you would want to be treated, retailing can be very pleasurable."
Working as a manager also had its pleasures.
"Many times in retail, you are overseeing a young person's first job," he said.
"It's great seeing them grow from a shy kid standing in a corner to someone who can deal with the customer and enjoy it."
Weirauch's wife works as a pharmacist in a supermarket. They have no children.
---
The Inquirer is not endorsing this individual as a job candidate; potential employers should conduct their own background checks.
---
Contact staff writer Jane M. Von Bergen at 215-854-2769 or jvonbergen@phillynews.com.