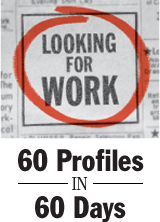 10/60 Brian J. Weirauch had a very strange December. He was relaxed - well, somewhat.
Ever since Weirauch, 49, graduated from college and started in retail management, the last month of the year would be an exhausting blur of long days, late nights, and early mornings.
The good news is that he's not working as a retail store manager. That's also the bad news, which is why a relaxing December wasn't as enjoyable as it should have been.
"The worst part of being unemployed is the uncertainty and the anxiety," said Weirauch, who lost his last store manager's job in November 2009. "It's the anxiety over the uncertainty."