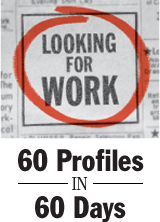 35/60 Angela Villanti's home is spotless and there are still dozens of mason jars of home-canned tomato puree in her pantry.
"I can only do so much cleaning," she said, looking around her spacious home in Furlong, Bucks County. A long-haired, fur-shedding white Persian cat wandered regally by - but there's not a hair in sight.
Since Villanti, 49, was laid off from her job at a call center in April, time weighs heavily on her.
"My kids left," she said. "Now I have this house and a cat. It's boring staying at home."