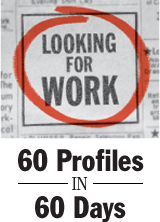 35/60 Angela Villanti's home is spotless and there are still dozens of mason jars of home-canned tomato puree in her pantry.
"I can only do so much cleaning," she said, looking around her spacious home in Furlong, Bucks County. A long-haired, fur-shedding white Persian cat wandered regally by - but there's not a hair in sight.
Since Villanti, 49, was laid off from her job at a call center in April, time weighs heavily on her.
"My kids left," she said. "Now I have this house and a cat. It's boring staying at home."
For seven years, Villanti worked as a supervisor, managing a team of call-center employees at Verizon Wireless' operations center in Trevose. When Verizon moved the work to another state, she was out of a job.
It's not easy to manage call-center employees because, in truth, it can be a thankless job. Pressure is intense to move calls quickly, and yet the work can be tedious.
"You have to be a motivator," Villanti said. She instituted departmental potlucks. "Because I'm Italian, they always wanted Italian food - lasagna, ziti."
The call center even had to operate on Christmas, and Villanti was always on the job that day. She even persuaded her superiors to offer extra vacation days to workers who showed up on Christmas.
"I believe strongly in being a team player," she said. "There is no I in team.
"We had to handle the calls," she said, "and if that meant I needed to sit on the phone and answer calls, I would."
Update: As of December 2011, Villanti is still unemployed.
AngelaVillanti

Hometown:

Furlong, Bucks County

.

Profession:

Call-center supervisor

.

Experience:

Managed a team of 15,
hiring, firing, and scheduling them.

Education:

Holy Family College -
bachelor's in management and marketing

.

E-mail address: avillanti@comcast.net
Angela Villanti's LinkedIn page

The key to good management is truthfulness, Villanti believes. Work with employees to help them achieve success, coach them, and don't abandon them. In a call center, she said, operators need to be pleasant without being too chatty, and the ability to type quickly while talking is a must.
Besides cleaning, Villanti spends her time looking for work. In the summer, she will buy 35 bushels of tomatoes at a farm in New Jersey and spend all day cooking them down to can them.
"My children have never had sauce bought from a store," she said.
Villanti would like another job that would use her motivational abilities. She is proud that her team had great morale and exceeded company goals.
---
The Inquirer is not endorsing this individual as a job candidate; potential employers should conduct their own background checks.
---
Contact staff writer Jane M. Von Bergen at 215-854-2769 or jvonbergen@phillynews.com.