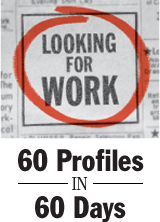 28/60 Carolyn Purnell-Trueheart, a laid off customer service representative specializing in freight, doesn't need to be an economist to figure out why so many people are unemployed.
"One person is doing three people's jobs," she said. "And then they are phasing out all the little jobs. There used to be a job called file clerk. I don't think that job even exists any more."
Trueheart, 61, of Philadelphia, was laid off in September 2009, part of a massive job loss in the entire transportation and trade sector.
As consumer spending declined, there was less and less need to move goods around the nation. Truck drivers, warehouse workers, airfreight pilots and dock workers lost their jobs - and so did people such as Trueheart, who tracked shipments, handled troubleshooting and scheduled pickup and retrieval of freight for Pilot Freight Services in Lima, Delaware County.
She had been working in freight since 2005. "You'd go out on the tarmac and pick up the paperwork," she said. "It was pretty exciting."
Update: As of December 2011, Truehart is still unemployed.

CarolynTrueheart

Hometown: Philadelphia.

Profession: Customer service,
research assistant.
Experience: Customer service in
freight; technician in research
labs; receptionist and clerk.
Education: Pierce Junior College -
course work.
E-mail address: Cgt_philly@yahoo.com

Before that, she was a lab tech at Campbell Soup Co., which she enjoyed. "I worked in the kitchen and set up and cooked the food," she said. Before that, she had a lab job at Thomas Jefferson University Hospital and she made it a point of pride to get there no matter what the weather.
It bothers her that she's unable to get a job. "I thought maybe it was my gray hair, because I looked around and everyone was younger," she said. Now she wears a wig on job interviews.
Trueheart wishes she could get another research job and she's been dabbling as a business consultant. But her real dream is to get a job doing voice-overs. So many people, she said, have complimented her on her smooth voice.
Lately, a homeless man with a golden voice has captured headlines and Trueheart has noticed. "I'd like to be the female Ted Williams," she said.
---
The Inquirer is not endorsing this individual as a job candidate; potential employers should conduct their own background checks.
---
Contact staff writer Jane M. Von Bergen at 215-854-2769 or jvonbergen@phillynews.com.