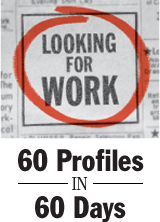 28/60 Carolyn Purnell-Trueheart, a laid off customer service representative specializing in freight, doesn't need to be an economist to figure out why so many people are unemployed.
"One person is doing three people's jobs," she said. "And then they are phasing out all the little jobs. There used to be a job called file clerk. I don't think that job even exists any more."
Trueheart, 61, of Philadelphia, was laid off in September 2009, part of a massive job loss in the entire transportation and trade sector.
As consumer spending declined, there was less and less need to move goods around the nation. Truck drivers, warehouse workers, airfreight pilots and dock workers lost their jobs - and so did people such as Trueheart, who tracked shipments, handled troubleshooting and scheduled pickup and retrieval of freight for Pilot Freight Services in Lima, Delaware County.