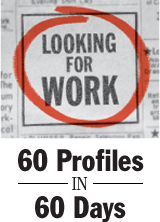 27/60 Recreation therapist Patricia Thieringer, 55, loved her job at Magee Rehabilitation Hospital, where she organized rugby, basketball, soccer, and track-and-field teams for people disabled with spinal injuries and amputations.
"I got to see the strengths of people," she said. "I had the least-sad part of the rehab experience."
But in 2007, the hospital began a huge round of layoffs, and Thieringer feared that soon she'd be among the unemployed. She couldn't afford that - not with a special-needs daughter and a husband in a wheelchair, who worked only sporadically as a substitute teacher.
"I wasn't unhappy," she said, "but I was scared."
So, she jumped ship to Haddon Township's school district and municipality, where she served as a community activities director, organizing adult, after-school, and community programs.
"I was thinking that school districts are recession-proof," she said. "When I heard that our district was going to be losing $4 million in state aid, I knew, due to my lack of tenure, that I would lose my job.
"It is so ironic that I jumped out of the frying pan into the fire," she said.
Another irony: Magee didn't have more layoffs. If she had stayed, she would probably still be there.
The layoffs at the district did more than put Thieringer out of work. They dashed the dreams of her husband, Joe, a medical-supply salesman who had returned to school with the hopes of teaching.
Had the economy been different, he might have moved into a full-time slot.
Thieringer lost her school district job in August. In October, her husband returned to his old field, landing a job as a medical-supply salesman.
At Magee, Thieringer became convinced of the value of peer-to-peer mentoring.
Those who participated in her programs appreciated the relationships with the other athletes. They encouraged each other, sharing tips about how to adjust to their new and more difficult lives.
Patricia Thieringer

Hometown: Haddon Township.

Profession:

Recreation therapist

.

Experience:

Worked in rehabilitation, hospital settings

;


community activities director.

Education:

Rutgers University -
enrolled in master's program
in social work.

E-mail address:

pthieringer@comcast.net

Patricia Thieringer's LinkedIn page


"The beauty of sports is the mentoring experience," said Thieringer, a runner who loves to kayak on the Cooper River near her Haddon Township home.
Thieringer now relies on peer mentoring in her job search. She belongs to several groups that help one another with encouragement, job leads, and feedback on resumes and interviewing.
"I've learned so much from each person's successes and mistakes," she said.
Meanwhile, with a son in college, she finds that the family budget is stretched, despite unemployment benefits and her part-time tax-preparation job. Her daughter needs a particular type of hearing aid, but Thieringer can't afford it. "Our savings have dwindled.
Update: In April, Thieringer landed a job, but moved to a better one, "her dream job," in November.
---
The Inquirer is not endorsing this individual as a job candidate; potential employers should conduct their own background checks.
---
Contact staff writer Jane M. Von Bergen at 215-854-2769 or jvonbergen@phillynews.com.