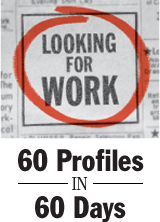 20/60 With Thursday's snow mounded on the streets like mini-Alps, Angela Terry, 40, dreams of visiting someplace warm, maybe the Cayman Islands.
Until April 2009, when she was laid off from her corporate travel associate job at Adelman Travel Group, all those lovely palm tree and beach brochures used to cross her desk.
"I want to go to a sunny island," she said.
These days, she lives with her parents in Philadelphia and tries to find work - maybe a government job at which her customer relations skills would be put to good use. Other ideas? Something clerical, credit counseling, customer service - and, of course, travel.