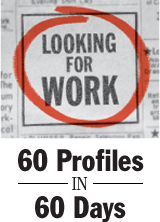 20/60 With Thursday's snow mounded on the streets like mini-Alps, Angela Terry, 40, dreams of visiting someplace warm, maybe the Cayman Islands.
Until April 2009, when she was laid off from her corporate travel associate job at Adelman Travel Group, all those lovely palm tree and beach brochures used to cross her desk.
"I want to go to a sunny island," she said.
These days, she lives with her parents in Philadelphia and tries to find work - maybe a government job at which her customer relations skills would be put to good use. Other ideas? Something clerical, credit counseling, customer service - and, of course, travel.
The travel industry, she thinks, is consolidating and there probably are not the opportunities that there once were. Some corporations are doing away with business travel consultants, or they switch to companies that are just going through the motions.
"They don't put in the love, or the care, or the work ethic," she said. "I'm the type of person who likes to help people."
In business travel, "these are men and women who are going to be away from their families. You want to make sure they are comfortable.
"Once you are in travel, you are in it," she said. "The perks were awesome." She especially liked the "fam" - familiarization tours offered by hotels and other destinations with the hope that the agents would recommend them to clients.
AngelaTerry

Hometown: Philadelphia.

Profession:

Corporate travel associate,
customer service

.

Experience:

Managed travel-related needs
for a French-owned international
corporation; worked for staffing agencies.

Education:

Corporate travel and tax preparation training. Berean Institute - cosmetology. High school diploma.

E-mail address:

Angelaterry111@yahoo.com
Angela Terry's LinkedIn page
A hotel in Center City put her up in a suite. "I was just me. You'd think I was bringing an entourage. I felt like a queen for a day."
They say that trouble comes in threes, and that's what happened to Terry. In October 2008, her family's home caught fire. The next month, her sister was murdered, leaving three children.
"It was like I was numb for a little while," she said.
Then, six months later, she was laid off from work. Terry credits her faith with getting her through her challenges. "If I didn't have a relationship with the Lord, I know I would have been crazy."
Update: As of December 2011, Terry is unemployed and looking for work. As a result of her Inquirer profile, she landed work, but business slowed and she was again laid off.
---
The Inquirer is not endorsing this individual as a job candidate; potential employers should conduct their own background checks.
---
Contact staff writer Jane M. Von Bergen at 215-854-2769 or jvonbergen@phillynews.com