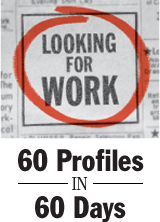 22/60 When Jewel Taylor, 41, a laid-off auditor who specializes in real estate, gets tired of listening to Sesame Street with her three young sons, she puts on her favorite opera.
"The boys and I listen to it," said Taylor, a mezzo-soprano who lives in Gloucester County.
"I love Kathleen Battle and Leontyne Price," she said, listing her favorite sopranos. "It's such a passion for me. I could lose myself in it. I miss singing, but I don't have the time."
Her hours are spent trying to find a job and trying to stretch her unemployment benefits and child-support payments.
She last worked in September 2009, for the Berkley Group Inc., a time-share company in Fort Lauderdale. "Time share is kind of like entertainment," Taylor said. "And in this economy, they weren't doing that well."
It used to be, she said, that time-share companies could weather a financial storm because their portfolio of properties was spread out - when one region struggled, another was likely to be thriving.
But this recession is too widespread. "People aren't traveling as much as they were," she said.
As a young woman, Taylor dreamed of singing opera; in reality, she admits, she wouldn't have been able to advance beyond the chorus. But she did manage to sing with a school group at the Metropolitan Opera Company in New York.
Update: As of December 2011, Taylor is still looking for work. She briefly had a job, but it wasn't a good fit.

JewelTaylor

Hometown:

Gloucester County.

Profession:

Internal auditor

.

Experience:

Managed and trained staff;
developed risk-based audit programs;
worked in collections.

Education:

University of Phoenix - MBA; master's
in education, curriculum and
instruction.

E-mail address:

Corporatejt@yahoo.com
Jewel Taylor's LinkedIn page
"My grandmother said you need to get a job where there is something available," she said.
Taylor said she liked numbers. "I was always the statistician on the sports teams," she said. "Not everyone can do accounting. Not everyone has the intuitive sense. You either get it, or you don't."
These days, "there are a lot of good accountants out there who are certified public accountants," she said. "While I have experience, someone else may have those little letters behind their names."
The toughest thing about being unemployed is "being broke, not being able to do things for the boys. I like to expand their minds," she said. Taylor's children are 5, 4, and 10 months.
"I miss the simple things," she said. "I can't put them in Little League because I don't have the $140 to sign them up."
---
The Inquirer is not endorsing this individual as a job candidate; potential employers should conduct their own background checks.
---
Contact staff writer Jane M. Von Bergen at 215-854-2769 or jvonbergen@phillynews.com.