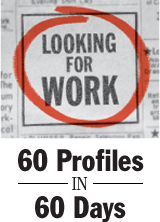 22/60 When Jewel Taylor, 41, a laid-off auditor who specializes in real estate, gets tired of listening to Sesame Street with her three young sons, she puts on her favorite opera.
"The boys and I listen to it," said Taylor, a mezzo-soprano who lives in Gloucester County.
"I love Kathleen Battle and Leontyne Price," she said, listing her favorite sopranos. "It's such a passion for me. I could lose myself in it. I miss singing, but I don't have the time."
Her hours are spent trying to find a job and trying to stretch her unemployment benefits and child-support payments.