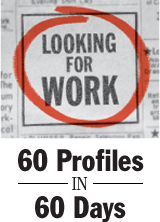 13/60 Larry Sutter got his start as an assistant buyer of dinnerware for Marshall Field's, the legendary Chicago department store.
These days, his expertise is in shopping for the manufacturing processes that produce the dinnerware, or figurines, or, for that matter anything - including industrial machines and construction tools.
But whether it's a heavy construction tool, a serving platter, or a Berenstain Bears collectible, it's the same thought process.
"You have to understand what is needed, then you have to take that concept and communicate it to a manufacturer to develop the item. That involves all the specifications and the pricing," said Sutter, 63, of Westampton.
Sutter, who was laid off in August 2008, last worked for Mikasa Inc., developing dinnerware.
"The luxury industry is suffering in this economy," he said.
To produce the china, Sutter worked with manufacturers all around the world, understanding finishes, materials, size - and of course, timing, for the retail market.
"I have had wonderful relationships with my manufacturers," he said.
Navigating cultural differences is a must. For example, some Asian manufacturers won't say no if their factories don't have the capacity to handle an assignment.
"They either won't answer you, or they don't come up with a solution, but there may be a delay, because it may take you awhile to realize they aren't working on the solution," he said.
Sutter always enjoyed working with luxury goods, such as fine china. Lately, he had an interview with an organization that wanted to put his expertise to use in finding manufacturers for heavy industrial equipment.
"I found that I got just as excited about buying a tamper as I did with fine china," he said. "That surprised me."
"The ultimate goal in consumer products is that it has to sell, that's number one," he said. "In the case of an industrial good, it has to do the job that it was intended to do, or you didn't do your job."
Update: As of December 2011, Sutter is working fulltime in retailing selling furniture.
LarrySutter

Hometown:

Philadelphia

.

Profession:

International sourcing,
procurement specialist

.

Experience:

Worked with manufacturers
around the world to move
from concept to product;
developed 22 new products for
a direct marketer of collectibles

.

Education:

Chadron (Neb.) State College -
bachelor's in business administration
and arts.

E-mail address:

Sutter.Larry@gmail.com

Larry Sutter's

LinkedIn page

Sutter has long exhausted his unemployment benefits. Even though it was a huge adjustment to move from a six-figure salary to $400 a week, they made a difference. And like many other laid-off professionals, he gets an occasional consulting assignment.
"Thank God, I have savings that I set aside for retirement," he said. "I'm going through my retirement money now."
That's one reason why he'd like to get a job, but the other is that he enjoys the work. "I want to work another 10 years."
---
The Inquirer is not endorsing this individual as a job candidate; potential employers should conduct their own background checks.
---
Contact staff writer Jane M. Von Bergen at 215-854-2769 or jvonbergen@phillynews.com.