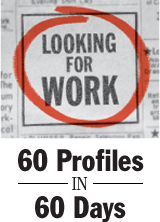 50/60 In this era of two-income households, many of those who lose their jobs find themselves relying on a spouse's paycheck to make ends meet.
But what happens when the spouse gets laid off, too?
That's what is facing human resources manager Jeanne Page-Soncrant and her husband Bob Soncrant, a loss-prevention director and fraud investigator. She's been laid off since April 2008. He lost his job in January.
"At a minimum, one of us must have full-time [work] by the summer, or else...," Jeanne Page-Soncrant wrote.
The "or else" tells the story - a house in Haddon Heights and a solid middle-class lifestyle in jeopardy. They have two children, 14 and 7.
When Page-Soncrant, 47, first lost her job, she felt somewhat energized.
Having never been unemployed and having been heavily recruited to her last position, "I thought it would be no big deal to get a job."
Her credential-packed resume included experience in benefits, talent acquisition, employee communications, safety and occupational health, diversity, recruiting, hiring and laying off.
That's why she felt confident about relying, at least for a time, on some consulting work and a related part-time job, even though it paid about half her hourly rate.
"It was time to take a breath and be with the family more," she said. "When you are in human resources, you are not always available for your family."
But the economy slowed and soon it became apparent that she wouldn't be returning to work quickly. The usual depression and discouragement set in.
So did her inner-HR.
She asked the pastor at her church, Haddonfield United Methodist, if she could start a support group for the unemployed. "There are support groups for everything else," she said.
Yes, the pastor said, and the coffee would be free.
Some similar groups are networking organizations for job leads and tips.
"When you go there you have to put your game face on," she said, "but when you come to our group, it's behind closed doors, so you can say what you really feel. It's not all tears. There's black humor, fear, sadness, worries."
With her leadership, the Haddonfield United Methodist group formed links with other groups to create the Career Transition Partnership to bring businesses and job-seekers together.
"The biggest problem is there are great candidates out there and great jobs out there. But there's a great divide between the candidates and the jobs," she said.
Page-Soncrant found the part-time work and her community work satisfying, but in January, that changed when her husband lost his job after seven years at Rite Aid.
"I don't want to be his career coach," she said. "I want to be his wife."
Still, she couldn't resist bragging about his 30 years in the field. "He brings a tremendous amount to the table," she said.
Soncrant, 54, started off as a police officer in Phoenix, but moved into retail security, working for several large chains. A key to preventing internal and external theft, he said, is establishing good policies and procedures and then sticking to them.
"I'm just passionate about enforcing laws and rules," said Soncrant.
"It's intriguing to be one step ahead of the thief," he said. "I like to get at the truth."
One truth: Dishonest people exist at all levels, from managers to clerks and from cashiers to security guards. "It doesn't matter how much money they make," he said.
Update: As of December, 2011, Jeanne Page-Soncrant had landed work in her field of human resources. Her husband is still looking for a job.
Jeanne Page-Soncrant
Hometown:

Haddon Heights

.

Profession:

Human resources

.

Experience:

Worked to find reemployment
for the laid-off, both as
professional career coach and volunteer;
worked in human resources

.

Education:

Lebanon Valley College - bachelor's
in education

.

E-mail address:

jeannepage123@yahoo.com

Jeanne Page-Soncrant

LinkedIn page
Career Transition Partnership, a regional faith-based and business group supporting job seekers.
Career Management Group of South Jersey, a faith-based support group for the unemployed that meets at the Haddonfield United Methodist Church 8:15 a.m. Thursdays.
Bob Soncrant
Hometown:

Haddon Heights

.

Profession:

Loss-prevention director

.

Experience: F

raud and loss investigations


for several retail chains;
resolved 63 internal cases of theft in 1.5 years;
worked on security procedures at Philadelphia
International Airport after 2001 attacks

.

Education:

University of Phoenix - bachelor's
in business management

.

E-mail address:

soncrant.robert@yahoo.com
Bob Soncrant's resume
Bob Soncrant's LinkedIn page

---
The Inquirer is not endorsing these people as job candidates; potential employers should conduct their own background checks.
---
Contact staff writer Jane M. Von Bergen at 215-854-2769 or jvonbergen@phillynews.com.