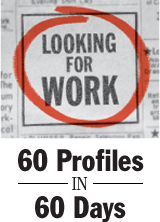 50/60 In this era of two-income households, many of those who lose their jobs find themselves relying on a spouse's paycheck to make ends meet.
But what happens when the spouse gets laid off, too?
That's what is facing human resources manager Jeanne Page-Soncrant and her husband Bob Soncrant, a loss-prevention director and fraud investigator. She's been laid off since April 2008. He lost his job in January.
"At a minimum, one of us must have full-time [work] by the summer, or else...," Jeanne Page-Soncrant wrote.