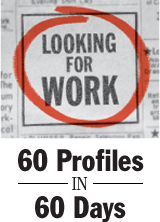 36/60 It's the middle of winter, but laid-off camp director Jeffrey Smyth is yearning for summer and the sound of excited children getting off the bus ready to resume their happy rituals of play.
"Kids come into their own at camp," said Smyth, 57, of Levittown. The recession hit his camp hard. In 2008, Holland Day Camp closed and the owner sold the property.
When the campers and their parents heard the news, there was weeping in the parking lot. "I cried, too," he said. "It was a sad day."
After the children left, Smyth stayed behind to ready the facilities for the new owners. Then, one day, after 23 years, the work was done and he was out of a job.
"At camp, kids don't have to be quiet, and listen and learn, but they do have to learn to function in a group," he said. "Kids who were considered unruly at school can shine at camp because they are allowed to bring their personalities out."
Being a director and chief operations officer requires a jack-of-all-trades knowledge of building and grounds maintenance. There are buildings, tennis courts, ball fields and swimming pools to repair - requiring plumbing, carpentry and electrical work.
And there was an equal amount of office work - marketing to parents, pricing the season, purchasing supplies, and developing a camper van transportation system, while maintaining the camp's website and database.
In the summer, he managed five directors, 50 senior counselors and as many as to 50 junior counselors while tending to the joys, bruises and emergencies that follow 350 children intent on fun.
"It is an eight-week season and it is extremely hectic," he said. "The job requires someone who can handle a barrage of constant information and sort out those things that need to be done, while not disappointing the people who think their things are the most important."
It's hard to find a job that incorporates all the skills Smyth has, so he's looking at pieces - transportation management, marketing, building-and-grounds management.
Update: As of December, 2011, Smyth is still working as a camp manager, a job he landed in the spring.
JeffreySmyth

Hometown:

Levittown

.

Profession:

Camp director, operations officer

.

Experience:

Managed a 350-camper summer camp
with a net operating income
exceeding $500,000

.

Education:

Bucks County Community College -
courses in psychology and
computer science

.

E-mail address:

JeffreySmyth@comcast.net
Jeffrey Smyth's LinkedIn page

Unemployment is tough. In October, his wife, Gabriele, was laid off from her job. They are behind on their mortgage payments but manage to pay just enough each month to stay ahead of a sheriff's sale.
"I've been doing some home repairs," Smyth said. "But it's very slow. I also can do computer repairs."
But what he really wants is a camp job - even if it is a lesser management position. He misses the laughter, the freedom, the pressure, the creativity, the children and even the silly hats.
"I did have a jester's hat," he said, "and there was the silly hat with the fish that I got conned into wearing."
---
The Inquirer is not endorsing this individual as a job candidate; potential employers should conduct their own background checks.
---
Contact staff writer Jane M. Von Bergen at 215-854-2769 or jvonbergen@phillynews.com.