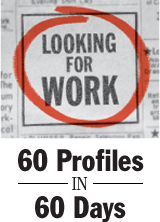 36/60 It's the middle of winter, but laid-off camp director Jeffrey Smyth is yearning for summer and the sound of excited children getting off the bus ready to resume their happy rituals of play.
"Kids come into their own at camp," said Smyth, 57, of Levittown. The recession hit his camp hard. In 2008, Holland Day Camp closed and the owner sold the property.
When the campers and their parents heard the news, there was weeping in the parking lot. "I cried, too," he said. "It was a sad day."
After the children left, Smyth stayed behind to ready the facilities for the new owners. Then, one day, after 23 years, the work was done and he was out of a job.