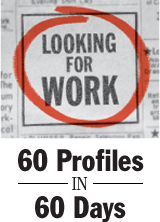 43/60 In retrospect, Deidre Rountree, a mathematics professor, transportation engineer and locomotive operator, has to cling to the belief that she did the right thing.
Shortly after she was laid off from her job as a nontenured mathematics professor at Burlington County College, her close friend, a single mother of two children, was diagnosed with breast cancer.
Rountree, 44, of Philadelphia, made the difficult decision to spend the next 18 months caring for her friend, raising her children, handling finances and battling her friend's depleted spirit.
"My mother told me, 'This is why you lost your job - to save her life.' "
The friend is fine now, but Rountree, out of work since June 2007, is not.
Two investment properties she bought years ago are long gone, swallowed up in sheriff's sales. Her current condominium in Old City is also close to foreclosure. That set up, she said, the beginning of a downward cycle that she couldn't resolve when she lost her income.
"My credit is bad because of something that was not my fault. Then I lost my job because New Jersey had budget cuts - again, not my fault. And three, unemployment has shot to 10 percent and despite all the education I have, I can't get a job and that's not my fault," she said.
Rountree studied engineering and commerce at Drexel University. The Friday before she graduated, she attended a career fair. Amtrak was hiring. Rountree got on board as a professional engineer and supervisor. "I learned how to operate a locomotive," she said.
Eventually, she returned to school for a master's degree and became a consultant and corporate trainer for transportation companies.

DeidreRountree

Hometown: Philadelphia.

Profession:

Transit consultant, mathematics
professor

.

Experience:

Taught college math; provided
railroad financial planning, contract
analysis, and software marketing strategy; certified
locomotive engineer

.

Education:

N.J. Institute of Technology -
master's in transportation engineering.
E-mail address: DeidreLRountree@aol.com

The problem with consultant work is that it can be spotty. "When the project is over and they can't use you elsewhere, you are gone." So, Rountree decided to teach.
"I love it when you fill the board with numbers and then you turn around. When you turn around, you can look in the pupils' eyes and see that they get it," she said. "There is never delayed gratification. You get immediate gratification."
Rountree would like to teach, work for the government, or return to transportation. "I've been told I'm overqualified, or I'm underqualified."
---
The Inquirer is not endorsing this individual as a job candidate; potential employers should conduct their own background checks.
---
Contact staff writer Jane M. Von Bergen at 215-854-2769 or jvonbergen@phillynews.com.