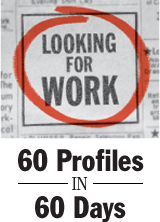 42/60 Michael Richman says he doesn't like to brag, but when it comes to his ability to handle a company's mail, he feels a little bit entitled.
"I have an incredible memory," he said.
At his last job, with Salomon Smith Barney Inc., he handled the mail for 80 brokers and each of them had a designated number. Sometimes, he said, letters would come in without a name - just a number, "but it didn't matter. If it said FC (financial counselor) 248, I knew who that was."
Richman, 50, of Philadelphia, was a casualty of the meltdown in the financial services sector, losing his job in June 2008, six months after the start of the recession.