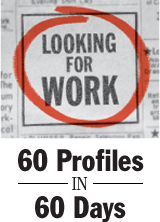 42/60 Michael Richman says he doesn't like to brag, but when it comes to his ability to handle a company's mail, he feels a little bit entitled.
"I have an incredible memory," he said.
At his last job, with Salomon Smith Barney Inc., he handled the mail for 80 brokers and each of them had a designated number. Sometimes, he said, letters would come in without a name - just a number, "but it didn't matter. If it said FC (financial counselor) 248, I knew who that was."
Richman, 50, of Philadelphia, was a casualty of the meltdown in the financial services sector, losing his job in June 2008, six months after the start of the recession.
It's nice to have someone like Richman pick up and deliver the mail, make sure everything is metered just right, run errands, handle overnight mail, and open incoming checks, but his company, now known as Morgan Stanley Smith Barney, decided the work could be split among others.
Richman, relentlessly upbeat, said he loved the work. "I love it because I'm good at it," he said. "I'm very proficient with Pitney Bowes [a metering machine]. I like the sociability of it. I like meeting all the brokers. I like helping people out.
Update: As of December 2011, Richman still hasn't found a job, but he has found satisfaction volunteering at a local elementary school. He is hoping that he could land work there as an aide.
MichaelRichman

Hometown: Philadelphia.

Profession:

Mail clerk

.

Experience:

Mailroom duties, helped
collections department by performing
skip tracing

.

Education:

High school

.

E-mail address:

Crewcut40@aol.com


"When people have to drop off their own mail, that takes away from the customer service aspect of the job," he said.
Like other job seekers, he tries to network everywhere, including his gym, the Philadelphia Sporting Club. "I became friendly with Gov. Rendell and he tried to get me a job. I had an interview at the Comcast mail room."
Richman has done this work since he graduated from high school and he remembers how he managed when people feared that the deadly chemical anthrax was being shipped through the mail.
He didn't let it phase him. "I wore surgical gloves," he said. "I thought that might be a smart thing to do."
---
The Inquirer is not endorsing this individual as a job candidate; potential employers should conduct their own background checks.
---
Contact staff writer Jane M. Von Bergen at 215-854-2769 or jvonbergen@phillynews.com.