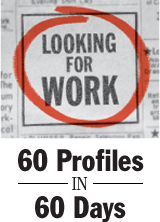 58/60 Maybe going into pre-med wasn't such a good idea.
"I started the organic chemistry lab on fire," K. Edward Rice said, laughing at the memory. "We put it out, but I didn't get a good grade in organic chemistry."
Rice, 53, a man with a relentless intellect and a love of knitting, goes where his mind leads him.
After the pre-med debacle, there was his first degree in industrial design followed by law school. Rice moved to Philadelphia and got a job in a law firm. "After two or three months, I realized I didn't like it."
Shortly after that, strictly by luck, he landed a job that became the 20-year passion of his life: working as a translator and academic bibliography indexer for the Institute of Scientific Information.
In that job, he used his German, French and Latin to translate and edit fine-arts and humanities research journals. He indexed and abstracted English-language humanities scholarship.
"I loved being around learning," he said. "I'm never bored. I'm like an egghead.
"I read about the fighting the Afghans were doing in 55 BC. Nothing has changed. No one has ever won a war in Afghanistan," he said.
The work required broad and specific knowledge to be able to decide what was worth indexing. "You had to know that George Sand was not a beach somewhere, but an author. You had to know what Plato wrote."
Then, in 2005, Rice's division was sold and closed. "There weren't enough subscribers to the arts and the humanities," he said.
Besides losing a job he loved, it was wrenching to watch the new owners toss monographs, reference books "everything was getting thrown out. They were throwing it in Dumpsters."
Rice wanted to keep working in an intellectual arena, so he returned to school for a degree in library science.
Update: As of December 2011, Rice is still looking for work.

EdwardRice

Hometown: Philadelphia.

Profession:

Archivist, librarian

.

Experience:

Archival processor and reference librarian;
editor and proofreader for mathematics
journals; editor of fine-arts and
humanities journals; knowledge of French,
German and Latin

.

Education:

Drexel University -
master's in library and information
sciences, archival concentration.

E-mail address:

KERchive@aol.com

To make ends meet, Rice proofreads mathematics textbooks. He also worked in a knitting store and sometimes finishes, for pay, other people's knitting projects.
Since his graduation in December from Drexel University, Rice is targeting museums, historical societies and universities. "Longwood Gardens is starting archives - can you imagine?" he said. He'd love a Longwood job.
While at Drexel, Rice interned at the National Archives and Records Administration. He continues to volunteer there, hoping for a job.
"I'm not ashamed to say I'm looking for work."
---
The Inquirer is not endorsing this individual as a job candidate; potential employers should conduct their own background checks.
---
Contact staff writer Jane M. Von Bergen at 215-854-2769 or jvonbergen@phillynews.com.