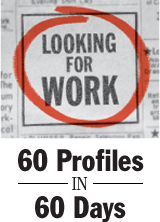 58/60 Maybe going into pre-med wasn't such a good idea.
"I started the organic chemistry lab on fire," K. Edward Rice said, laughing at the memory. "We put it out, but I didn't get a good grade in organic chemistry."
Rice, 53, a man with a relentless intellect and a love of knitting, goes where his mind leads him.
After the pre-med debacle, there was his first degree in industrial design followed by law school. Rice moved to Philadelphia and got a job in a law firm. "After two or three months, I realized I didn't like it."