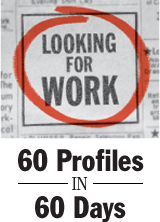 24/60 Health insurance is so complicated, but laid-off claims adjuster Rashidah Johnson understands it more than most.
"I like it because I'm helping someone, especially dealing with the elderly," said Johnson, 39, of Philadelphia. "As for the doctors, they want to get paid, just as everyone else does.
"And the patients want to make sure their bills are precise," she said, before describing a case she handled involving a woman who had given birth to twins. The insurer wanted to pay for just one birth, thinking it was a duplicate invoice. Johnson managed to straighten out the situation.
Johnson was laid off from Keystone Mercy Health Plan in March.