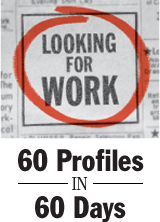 24/60 Health insurance is so complicated, but laid-off claims adjuster Rashidah Johnson understands it more than most.
"I like it because I'm helping someone, especially dealing with the elderly," said Johnson, 39, of Philadelphia. "As for the doctors, they want to get paid, just as everyone else does.
"And the patients want to make sure their bills are precise," she said, before describing a case she handled involving a woman who had given birth to twins. The insurer wanted to pay for just one birth, thinking it was a duplicate invoice. Johnson managed to straighten out the situation.
Johnson was laid off from Keystone Mercy Health Plan in March.
Basically, Johnson has switched back and forth between two fields - health-insurance claims service and financial customer service. Sometimes she worked directly for insurers or banks, but other times, she has been on assignment from a temporary staffing agency.
This is the first time, she said, that she hasn't been able to immediately get another placement.
In the past, she said, temp agencies sent out workers and companies were happy for the help. But these days, there are two hurdles for a temp placement: The agency must hire the worker and then the worker needs to interview with the client to get the job.
"It's a competitive market out there," she said. "You have to be the best of the best for someone to hire you."
Update: As of December, 2011, Johnson is working parttime in the court system.
RashidahJohnson

Hometown: Philadelphia.

Profession:

Claims examiner, customer service

.

Experience:

Worked for various health
insurers; worked in collections

.

Education:

Chestnut Hill College -
bachelor's degree in business
communication

.

E-mail address:

rmjohnson_2005@yahoo.com

Rashidah Johnson's LinkedIn page


What Johnson enjoyed most about her work was dealing with the elderly, and she'd like to find a job where she could do that more - maybe in human services. Her degree is in business communications, but she'd like to think that there would be some way for her to use her experience in customer service in finance and insurance to help the elderly.
"I want to be an advocate for the elderly," she said.
Since she was laid off, she has given up her apartment and moved in with her parents. It has become a time of dreams deferred.
"Hopefully, I can get a job and use my savings to buy a house," she said.
---
The Inquirer is not endorsing this individual as a job candidate; potential employers should conduct their own background checks.
---
Contact staff writer Jane M. Von Bergen at 215-854-2769 or jvonbergen@phillynews.com.