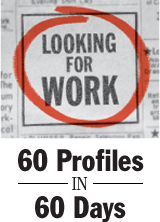 16/60 Every time Sheryl "Pinky" Pincus had looked for a job in the past, she landed one instantly.
Maybe it was the alphabet soup of credentials after her name: BSN for her nursing degree, MS for her nurse-practitioner degree, and JD, denoting the law degree from Widener University.
Pincus, 60, of West Chester, brought those credentials, plus experience as a workers' compensation attorney and a medical malpractice nurse paralegal, into her last job.
As a major claims specialist for an insurance company, she investigated, evaluated and negotiated claims of bodily injury and property damage based on allegations of exposure to contaminants.
But something was missing.
"I liked the job," she said. "It challenged me, but I found myself becoming frustrated. The part of me that speaks to me the most - my health-care roots - the idea of making a difference in people's lives," seemed far away.
"I missed not contributing," she said.
So, banking on her past job-hunting history, she quit. That was in October 2009.
"In retrospect, I didn't think it would take me as long as it has," she said.
"Ideally, I'd like to find a job where all three of my backgrounds [nursing, law and insurance] would be used," she said.
One example might be working for a hospital to help it devise procedures to avoid malpractice claims.
These days, she faces a dilemma. Her nursing credentials have expired and it would cost her hundreds of dollars to take the test and enroll in the test-prep courses. Being unemployed, money is in short supply.
And she would prefer not to return to direct patient care.
Update: As of December, 2011, Pincus has landed parttime contract work in her field. She is studying for the nursing examination.
SherylPincus

Hometown:

West Chester

.

Profession:

Insurance-claims manager, attorney,
nurse

.

Experience:

Litigated workers' compensation cases,
was

a nurse administrator.

Education:

Widener U - law degree.
U of Rochester - master's,
nurse practitioner.

E-mail address:

Sheryl.Pincus@gmail.com
Sheryl Pincus' LinkedIn page
"I feel like I'm walking a fine line," she said. "If the job is strictly insurance, I'm too far away from the voice that says, 'Make a difference.' "
Because Pincus quit her job, she has no unemployment compensation. She is living off savings. Money is tight. Even so, she managed to negotiate a reduced rate at the gym. "I lost 25 pounds and came down two sizes."
Meanwhile, to keep up her spirits and skills, she has signed up to volunteer for the SeniorLaw Center in Philadelphia.
"I feel like I'm not contributing," she said. "I love to work. I plan to work at least 10 years. I need a job where I'm not just biding my time."
---
The Inquirer is not endorsing this individual as a job candidate; potential employers should conduct their own background checks.
---
Contact staff writer Jane M. Von Bergen at 215-854-2769 or jvonbergen@phillynews.com.