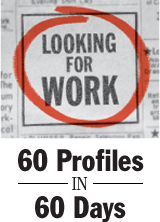 16/60 Every time Sheryl "Pinky" Pincus had looked for a job in the past, she landed one instantly.
Maybe it was the alphabet soup of credentials after her name: BSN for her nursing degree, MS for her nurse-practitioner degree, and JD, denoting the law degree from Widener University.
Pincus, 60, of West Chester, brought those credentials, plus experience as a workers' compensation attorney and a medical malpractice nurse paralegal, into her last job.
As a major claims specialist for an insurance company, she investigated, evaluated and negotiated claims of bodily injury and property damage based on allegations of exposure to contaminants.