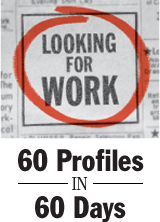 56/60 Nothing in life has meant more to Edith "Edie" Petillo, 57, than her years as a college student at Immaculata University.
"I found I could truly be myself," Petillo said. "Immaculata has impacted everything in my life."
And that would be particularly true when it has come to Petillo's career.
When Petillo graduated, her first job was as an Immaculata college admissions counselor, and she rose to become associate director for admissions. Her last job, taken after 15 years working for other companies, was also at Immaculata, as director of alumni relations. She'd be there today but for a change in management.
"I still volunteer there and give money," said Petillo, who lives in Wallingford. "They know I loved Immaculata and believed in the product."
Petillo left Immaculata in October 2009 and would like to find another position in college alumni relations, or in a similar field that requires the tending and building of relationships.
"The goal is engagement, so people give money - so they give their time, talent and treasures," Petillo said.
The friends she made as a student, and the networks she built as an Immaculata employee, have led to nearly every job she held.
"It takes sincerity, and integrity and the ability to listen to what they are telling you," Petillo said, talking about her work as an alumni director.
"You have to say, 'How can I help you?' You give them something that can enhance their knowledge and their skills," she said.
"Some of the older ones call and want to talk," she said.
A busy person might be tempted to cut them short, but that's not wise. "Maybe, one day, they might remember that you were nice," she said. "It's all about connecting with people."
Connections, of course, are key to finding a job, and Petillo, a great believer in the power of relationships, sees her life as proof of the principle.
Financially, Petillo continues to rely on unemployment benefits. "They are a lifeline," she said. It helps that she lives with her elderly mother.
Update: As of December 2011, Petillo is still looking for work.
EdithPetillo

Hometown:

Wallingford

.

Profession:

Alumni director

.

Experience:

Built up alumni chapters;
raised money; volunteered as adviser
to graduating classes.

Education:

Villanova - courses
in elementary ed guidance counseling

.

E-mail address:

edithpetillo@aol.com

Edith Petillo

's LinkedIn page


On the job front, her contacts at Immaculata help her with job leads, but, she said, they've given her much more in this challenging period, when self-doubt creeps in and the inevitable depression of joblessness looms.
"They've provided friendship and emotional support," Petillo said. "My friends and colleagues have lifted me up, given me ideas. Their support at this time is invaluable.
"They believe in me."
---
The Inquirer is not endorsing this individual as a job candidate; potential employers should conduct their own background checks.
---
Contact staff writer Jane M. Von Bergen at 215-854-2769 or jvonbergen@phillynews.com.