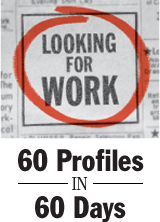 56/60 Nothing in life has meant more to Edith "Edie" Petillo, 57, than her years as a college student at Immaculata University.
"I found I could truly be myself," Petillo said. "Immaculata has impacted everything in my life."
And that would be particularly true when it has come to Petillo's career.
When Petillo graduated, her first job was as an Immaculata college admissions counselor, and she rose to become associate director for admissions. Her last job, taken after 15 years working for other companies, was also at Immaculata, as director of alumni relations. She'd be there today but for a change in management.