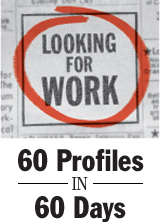 1/60 The worst of it is so terrifying that Donna Oxford tends to worry more about the smaller problems, such as how depressing it was not to be able to treat her granddaughters to a day at the beach this summer or take them shopping for school clothes.
"Yes, it's sad that I'm going to be homeless soon," said Oxford, her voice catching, her eyes welling up with tears, "but it's those kinds of things that hit me hard."
Oxford, 53, an administrative and executive assistant who worked in business development, sales support, account management and data analysis, was laid off from a major local e-commerce company in December 2007.
In those days, she was earning more than $55,000 a year, and she was particularly proud of the time that she organized a move for 450 colleagues, color-coding and tagging their desks and equipment so their work could continue uninterrupted.