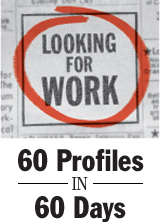 1/60 The worst of it is so terrifying that Donna Oxford tends to worry more about the smaller problems, such as how depressing it was not to be able to treat her granddaughters to a day at the beach this summer or take them shopping for school clothes.
"Yes, it's sad that I'm going to be homeless soon," said Oxford, her voice catching, her eyes welling up with tears, "but it's those kinds of things that hit me hard."
Oxford, 53, an administrative and executive assistant who worked in business development, sales support, account management and data analysis, was laid off from a major local e-commerce company in December 2007.
In those days, she was earning more than $55,000 a year, and she was particularly proud of the time that she organized a move for 450 colleagues, color-coding and tagging their desks and equipment so their work could continue uninterrupted.
"I'm good at keeping things in line and foreseeing what things could go wrong and preventing them," she said.
Before that, she was continually employed since 1981, usually as an account executive, either generating business or managing data.
These days, Oxford stacks a pile of job-search books on her kitchen table. Her house outside Coatesville is cheerful, but a plastic sheet covers her front door to keep out a draft.
DonnaOxford
Hometown: Coatesville.
Profession: Sales and executive support, account
management, data analysis.
Experience: Sales, administrative and executive
support, staffing coordination,
pricing administrator.
Education: Penn State University, completed three
of four classes for project management
and paralegal certifications.
E-mail address: Donna.Oxford@gmail.com
Donna Oxford's LinkedIn page
Between unemployment benefits and a part-time job at the YMCA, she earns no more than $175 a week and she worries about how she'll support her family. Six months after she was laid off, she took custody of a grandson, now 2, to keep him out of foster care.
"I haven't paid the mortgage in a couple of months," she said. She should have applied for food stamps, but she keeps hoping that any day she'll get a job.
"I'm a happy person," she said, "but without a job, you can never be relaxed or secure. If it were just me, I could go sleep anywhere.
"Wait, that doesn't sound good," she laughed. "I could crash at someone's house. But it's not just me, it's my grandson, too."
Update: As of December 2011, Oxford is still employed at the job she landed after her profile appeared in the Inquirer. However, she was so far behind and earning so much less that she will probably lose her house.
A poem that Oxford has written:
Today I Lost a Tooth
Sobbing en route to the dentist for the tooth extraction
I couldn't understand why I was so emotional
Until I realized that the chasm in my mouth is a
metaphor for my life
And the course it's taken since I lost my job and
assumed custody of my grandson

That gap represents my state of poverty
My lack of medical and dental insurance
The 401(k) that is now depleted
The school clothes I wasn't able to buy for my
granddaughters
The mortgage and taxes that haven't been paid
The reason I fall asleep with a headache and wake up
with anxiety

It symbolizes my constant state of fear, despair, and fading optimism
That it's Monday and I have nowhere to go
The phone calls from bill collectors that I evade
And why I avoid stores that play Christmas carols
Every time my tongue slips through the opening, I am
reminded that
The shopping I used to enjoy is now a spectator sport
Trips to the beach with my grandchildren are now memories instead of plans
I'm always cold because the house needs new windows
and the car has no heat

I tell myself to stay positive; I'll get a job tomorrow but
Today I lost a tooth
— Donna M. Oxford, December 2010


The Inquirer is not endorsing this individual as a job candidate; potential employers should do their own background checks.

---
Contact staff writer Jane M. Von Bergen at 215-854-2769 or jvonbergen@phillynews.com.