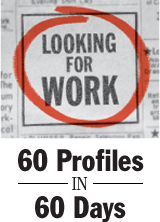 53/60 It takes Abdulkarim "Kimo" Mokbil, an unemployed business owner from Ethiopia, a few minutes to count how many times he has been uprooted from his home, only to arrive in a new place with what he owns in a suitcase.
Six times - starting at age 9 when he and two brothers left Ethiopia to avoid the chaos of the Ethiopian Civil War.
"To start from zero, over and over again, you rediscover yourself," said Mokbil, now an American citizen. "It gives you strength, determination. You do not give up.
"Wherever you lay your head is your home," he said. "I have to believe that."