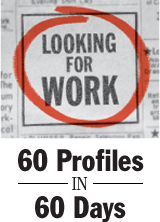 53/60 It takes Abdulkarim "Kimo" Mokbil, an unemployed business owner from Ethiopia, a few minutes to count how many times he has been uprooted from his home, only to arrive in a new place with what he owns in a suitcase.
Six times - starting at age 9 when he and two brothers left Ethiopia to avoid the chaos of the Ethiopian Civil War.
"To start from zero, over and over again, you rediscover yourself," said Mokbil, now an American citizen. "It gives you strength, determination. You do not give up.
"Wherever you lay your head is your home," he said. "I have to believe that."
Two weeks ago, Mokbil started over again, enrolling in a new Health Information Program cosponsored by Temple University's Center for Social Policy and Community Development and administered by a union training organization, District 1199C's Training and Upgrading Fund.
The tuition-free program, which aims to train people in health-information technology and administration, builds in tiers, ending with the possibility of a master's degree.
"Most of the jobs out there are in health," Mokbil said.
Mokbil's life took him from Ethiopia to Djibouti to Egypt, then finally to Philadelphia as a high school senior. He became a citizen, joined the Army National Guard and worked for IBM, providing tech support. He attended Drexel University.
In 2001, he returned to Ethiopia, first going into business with a brother and then starting his own business - Kimo Burgers restaurant in Addis Ababa. "I had a plan to scatter these all over the country, not just the city."
In Addis Ababa, he said, the business - a drive-up burger place - was a novelty and a good place for people to show off that they owned cars.
A messy divorce ended the business and in November 2009, Mokbil returned to the United States with a suitcase and his son, now 6. They ended up in a homeless shelter, where he soon took on a temporary job, for pay, of maintaining computers and printers.
Update: Mokbil is working fulltime and loves his job.

AbdulkarimMokbil

Hometown: Philadelphia.

Profession:

Business owner; IT

.

Experience:

Started and managed a restaurant;
turned around an import-export business;
tech support; specialized in
logistics for Army National Guard.

Education:

Drexel University -
coursework in international studies.

E-mail address:

Kimomokbil@yahoo.com
These days, Mokbil, who now has an apartment, relies on welfare to make ends meet, even as he keeps sending out resumes for positions. Translation work is another option: Besides English, he speaks Arabic, and the African languages of Amharic, Somali, Oromomiffa and Harari.
"I'm active," he said. "I go where the opportunities are."
Any employer, he thinks, will benefit from his determination and from his ability to get along with all types of people. "Wherever I go, I learn the language, the culture and I get along with people."
---
The Inquirer is not endorsing this individual as a job candidate; potential employers should conduct their own background checks.
---
Contact staff writer Jane M. Von Bergen at 215-854-2769 or jvonbergen@phillynews.com.