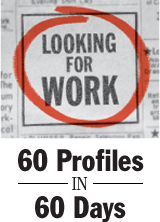 25/60 Like many people who are out of work, laid-off magazine editor and writer Robert Mitchell found himself missing the daily routine: the steady regularity of commuting, settling in at his desk, conferring with colleagues, handling the job, and then going home.
Now he has a different routine.
"I sit down with my cup of coffee, read the newspaper and then I start my job search," he said.
Mitchell, 46, of King of Prussia, was laid off in May from his job as managing editor of Advance for Health Information Executives, a job he held for 12 years. He rose through the ranks at the magazine, which specialized in health-information technology.