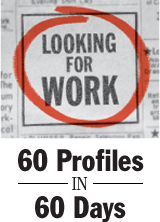 25/60 Like many people who are out of work, laid-off magazine editor and writer Robert Mitchell found himself missing the daily routine: the steady regularity of commuting, settling in at his desk, conferring with colleagues, handling the job, and then going home.
Now he has a different routine.
"I sit down with my cup of coffee, read the newspaper and then I start my job search," he said.
Mitchell, 46, of King of Prussia, was laid off in May from his job as managing editor of Advance for Health Information Executives, a job he held for 12 years. He rose through the ranks at the magazine, which specialized in health-information technology.
"What I liked about it is that I made a lot of contacts with chief information officers. I respect them so much for the work they do," Mitchell said. "It's health care. It's a caring profession, even if it is technology."
His job search routine consists of applying for jobs online.
"Lately, I'll see something and I'll say, 'Oh yeah, I can do that.' But then, when you find out more about the position, you see that it is an entry-level position, although nothing in the ad would indicate that. Employers are looking for people with less experience."
Mitchell also spends time networking. A favorite group is one that meets at a coffee shop in Wayne one morning a week. And there's a small group of unemployed people at his church.
Update: As of December 2011, Mitchell, who briefly had a job, is still looking. He hopes a his current parttime job becomes fulltime in 2012.

RobertMitchell

Hometown:

King of Prussia

.

Profession:

Magazine editor, writer

.

Experience:

Edited and wrote for print,
web and social media. Expert
on health-information technology.

Education:

Southern Connecticut State University -
bachelor's in journalism

.

E-mail address:

Bobmitchell_99@yahoo.com

Robert Mitchell's

LinkedIn Page
Mitchell also works on whatever freelance writing and editing assignments he can get. A new skill is moderating webinars for Modern Healthcare, a Chicago-based health-care publication.
Mitchell has newspaper reporting in his background. He worked for the King of Prussia Courier and the Daily Mail in upstate Greene County, New York. At one point, he contemplated writing about religion. His education includes a stint at the Lutheran Theological Seminary in Philadelphia.
Finances are tight, especially with two teenage daughters. Mitchell's wife works and he collects unemployment.
"The publishing industry, as a whole, is really bad," Mitchell said. "I'm trying to use the experiences I have in health care to stay in the industry, whether it be in publishing, public relations or corporate relations."
---
The Inquirer is not endorsing this individual as a job candidate; potential employers should conduct their own background checks.
---
Contact staff writer Jane M. Von Bergen at 215-854-2769 or jvonbergen@phillynews.com.