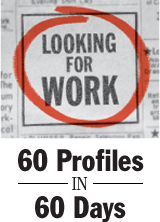 48/60 Why is it, Jane Merrylees wonders, that a college degree seems to be needed for nearly every job - even a legal secretary's job? Isn't intelligence, organization and an excellent command of the English language enough?
For more than 20 years, until the economy pulled the legal business up by its briefs, Merrylees, 58, a high school graduate, had functioned perfectly well in several law offices, handling ever more complicated cases. She became proficient in federal, state and local rules of civic procedure in Pennsylvania and New Jersey. She scheduled client appointments and depositions and typed and edited legal correspondence.
"It hurts me that I don't have a degree," she said. "But why do I need one?"
All her organizational abilities and commitment to getting the work done stood her in good stead at her last job, at a public interest nonprofit law firm. Like other nonprofits, this one was putting its limited money into its mission. Equipment was old and printers were slow, but passion for the work was in plentiful supply.
"We went by the seat of our pants," she said, remembering pulling postmidnight stints organizing "bibles." That's the term for the collection of pleadings and documents - numbered, logged and put into binders for trial.
That firm got hit with a double-whammy - the decline in the legal business and cuts in funding for nonprofits. Merrylees was laid off in April 2008, after 11 years.
"I was scared and ashamed," she said. "I don't know why. I always worked hard and I always had jobs."
Being a legal secretary, Merrylees said, was a lesson in life. "I would get involved with the clients and their issues. I became very interested in disability law and how important early intervention is."
In her job, she pondered the difference between justice and what happens in the courts. "I became a little bit cynical," she said, "because it is true that if you have money, you are better off because you can afford a better lawyer - or any lawyer at all."
Update: As of December, 2011, Merrylees makes her living walking dogs.

JaneMerrylees

Hometown: Philadelphia.

Profession:

Legal secretary

.

Experience:

Worked in several law firms;
acquired knowledge of disability
rights, environmental law, and
employment discrimination; familiar with
federal, state and local
rules of civil procedure in
Pa. and N.J.

Education:

High school graduate

.

E-mail address:

Seelyrrem@yahoo.com
Jane Merrylees' LinkedIn page

After she lost her job, she had to become accustomed to new job-searching methods. She went to the library and learned about search engine optimization for resumes - how to make key words stand out in a computerized job data bank.
Merrylees went back to be officially trained on what she already knew - various Microsoft Office programs.
She adopted ever greater habits of frugality. To earn a little cash, she started walking dogs for her neighbors in Queen Village in Philadelphia. It's not much, but it helps.
"I'm down to the bare minimum now," she said.
---
The Inquirer is not endorsing this individual as a job candidate; potential employers should conduct their own background checks.
---
Contact staff writer Jane M. Von Bergen at 215-854-2769 or jvonbergen@phillynews.com.