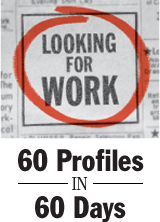 48/60 Why is it, Jane Merrylees wonders, that a college degree seems to be needed for nearly every job - even a legal secretary's job? Isn't intelligence, organization and an excellent command of the English language enough?
For more than 20 years, until the economy pulled the legal business up by its briefs, Merrylees, 58, a high school graduate, had functioned perfectly well in several law offices, handling ever more complicated cases. She became proficient in federal, state and local rules of civic procedure in Pennsylvania and New Jersey. She scheduled client appointments and depositions and typed and edited legal correspondence.
"It hurts me that I don't have a degree," she said. "But why do I need one?"
All her organizational abilities and commitment to getting the work done stood her in good stead at her last job, at a public interest nonprofit law firm. Like other nonprofits, this one was putting its limited money into its mission. Equipment was old and printers were slow, but passion for the work was in plentiful supply.