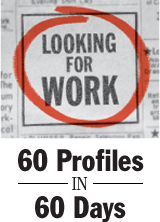 39/60 When Raymond Melendez, 43, goes into a store, particularly into a big shopping club, he notices everything.
And sometimes, what he notices is not good.
"It drives me nuts," said Melendez, of Bensalem, an unemployed marketing and retail manager. "I can get it in better shape. I'm itching to go.
"I love the work, anything having to do with retail," he said. "It's fast-paced, and there's always a challenge."
Melendez grew up on welfare, but ran his way out of poverty, landing a track scholarship to college. Shortly after he graduated, he met his wife and went to work for her family's business, a bar and grill.
Later, he moved onto retailing. Soon, he became the overnight manager at a 24-hour drugstore. "When I left in the morning, the store had to be immaculate," said Melendez.
In 2000, he joined Kmart Corp. "I thought they were a stable company," he said, "and I could see all the opportunities for advancement."
He was just in line for a promotion when, in 2002, Kmart closed 360 stores. "I got laid off," he said.
Soon, he landed at Sam's Club, where he was sent to manage the bakery department - not that he knew a thing about baking. What he did know, after looking over the sales records, was that cakes were very profitable, if there was someone always available to decorate them.
"I had everybody trained on how to decorate cakes," he said.
Later, he became marketing manager at a different Sam's Club, selling memberships. "When I got there, we were in the bottom-20 club in the nation," he said.
Melendez focused on one type of membership. "We were not only to make it to number one in the market, but in the whole division" in that membership category.
Update: As of December 2011, Melendez was working fulltime as an assistant supermarket manager.

RaymondMelendez

Hometown:

Bensalem.

Profession:

Retailing, marketing manager.

Experience:

Recruited, trained, and directed a
high-performance sales team.

Education:

St. Peter's College -
bachelor's in business administration.
E-mail address: rmelendez76213@gmail.com

In September 2010, he lost his Sam's Club job when he needed to take off some time to handle a family matter. He hopes Sam's will hire him back again.
One plus of being unemployed is that he gets to spend more time with his children, age 15, 14, and 10.
"I didn't think I'd be out of work this long," Melendez said. Unemployment benefits help, and his wife works a lot of overtime.
"My son said, 'I'll help you, Dad. I'll give you money.' It's nice to hear your kid say that, but I would have a hard time taking money from my kids."
---
The Inquirer is not endorsing this individual as a job candidate; potential employers should conduct their own background checks.
---
Contact staff writer Jane M. Von Bergen at 215-854-2769 or jvonbergen@phillynews.com.