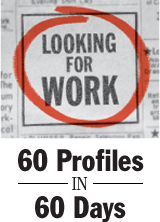 39/60 When Raymond Melendez, 43, goes into a store, particularly into a big shopping club, he notices everything.
And sometimes, what he notices is not good.
"It drives me nuts," said Melendez, of Bensalem, an unemployed marketing and retail manager. "I can get it in better shape. I'm itching to go.
"I love the work, anything having to do with retail," he said. "It's fast-paced, and there's always a challenge."