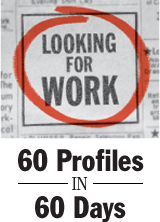 46/60 Eleanore Meals believes in goals - setting them and pursuing them. And, it helps to have a suit jacket handy.
These days, Meals, 53, is sticking to her goal of landing a job as an operational leader in the Philadelphia region.
Meals' resume includes stints as a site, production, purchasing, inventory control and sales manager with responsibility for budgets of more than $115 million and workforces that topped 250.
Her last job, which she took because she wanted to round out her portfolio with sales experience, involved managing a staff that sold credit cards at the Philadelphia International Airport.