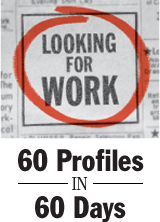 46/60 Eleanore Meals believes in goals - setting them and pursuing them. And, it helps to have a suit jacket handy.
These days, Meals, 53, is sticking to her goal of landing a job as an operational leader in the Philadelphia region.
Meals' resume includes stints as a site, production, purchasing, inventory control and sales manager with responsibility for budgets of more than $115 million and workforces that topped 250.
Her last job, which she took because she wanted to round out her portfolio with sales experience, involved managing a staff that sold credit cards at the Philadelphia International Airport.
"You have to make a two-minute sale when they are running to catch a plane," Meals said.
When her company lost its airport contract, Meals, a mother of three from Downingtown, was out of work. Her husband sells auto parts.
In the late 1990s, she managed sites in Baltimore and Barrington for the containerboard packaging division of Weyerhaeuser Co.
"When you are a production manager, you just roll up your sleeves and get in there," she said. "It's the heartbeat of the company."
In both places, she managed a unionized workforce.
No problem, she said. She simply carried the contract in her pocket. "It's very straightforward," she said, adding that she made it her business to develop a good relationship with the union leader.
"If you keep the big goal in mind - there is a company goal, and a department goal and the individual has a goal - if they all have the same goal, we're singing pretty," Meals said.
In Baltimore, she achieved a goal of reducing safety incidents from 15 to zero. One method? Focusing on prevention rather than discipline, so workers would solve problems, not cover them up.
Meals said she easily transitioned from factory floor to executive suite by keeping a dress jacket on hand.
Update: As of December 2011, Meals was still looking.
EleanoreMeals

Hometown:

Downingtown

.

Profession:

Operations director

.

Experience:

Top sales producer, directed
sales staff, directed total
operations, with union workforce
of 250

.

Education:

Villanova University -
courses toward a master's.

E-mail address:

e.meals@verizon.net

That habit paid off recently, when, driving home from a workshop with a soccer mom acquaintance, also unemployed, Meals mentioned that she'd like to work for a particular company. Lo and behold, a vice president from that company was the soccer mom's neighbor. They dropped by on the way home, on a Sunday at 7 p.m.
True to form, Meals had a jacket and now she's hoping that she gets a shot at a perfect position at that company.
"I think people who are organized and have goals can accomplish anything," she said.
---
The Inquirer is not endorsing this individual as a job candidate; potential employers should conduct their own background checks.
---
Contact staff writer Jane M. Von Bergen at 215-854-2769 or jvonbergen@phillynews.com