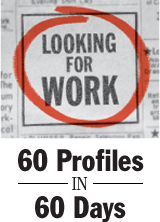 45/60 Sometimes when Michael McGinley and his fellow laid-off lawyers are sitting around a conference table, reviewing mountains of computerized documents, they joke about starting their own law firm.
"We all get along," said McGinley, 47, of Philadelphia. "All of us have different specialties."
And, all nine of them are used to working cheap.
Technically, McGinley is not unemployed.
He and the others are practicing law - recession style, part of the massive uprooting of the legal profession.
These lawyers are no longer partners or associates, but hourly workers brought in to shovel documents in mass litigation. Where they once billed at hundreds of dollars an hour, they now receive $25 to $35 an hour for their work - when they can get it.
"You don't get medical. You don't get vacation time," he said. McGinley was thrilled that his temp agency actually gave him Christmas and New Year's as paid holidays.
In March 2009, McGinley was laid off from Volpe and Koenig P.C, of Philadelphia, an intellectual-property firm.
It was his second recession layoff.
The first was in October 2007, when he lost his job as a lawyer and vice president with Fidelity National Title Insurance Co. in Philadelphia as the collapsing real estate market led the nation into recession.
"Business was slowing down and the deals weren't coming in," he said.
Update: As of December 2011, McGinley is still doing contract legal work.

MichaelMcGinley

Hometown: Philadelphia.

Profession:

Lawyer

.

Experience:

Licensed in Pennsylvania and
New Jersey. Project manager of
10-lawyer document review team;
intellectual property and
trademarks; commercial real estate

.

Education:

Temple University - law degree.

E-mail address:

McGinley19103@gmail.com

That first layoff wasn't so bad. McGinley hopped right into a law position at Volpe, where he enjoyed the challenge of litigating definitions of panzerotti, the Italian stuffed dough dish. One fascinating case involved which pornography website had the legal right to a domain name.
McGinley said he believes he will find a regular job at some point. Meanwhile, he did some volunteer work with a Philadelphia program designed to keep people out of foreclosure. His law and real estate background helped.
"When I got laid off from Volpe, I began to question my own value. What did I do wrong? You torture yourself. Then, after awhile, you have to take stock of yourself and learn what is really important.
"What is important is that you try to be happy," he said. "You have to make each day as good a day as you can. You have to turn on your eternal optimist."
---
The Inquirer is not endorsing this individual as a job candidate; potential employers should conduct their own background checks.
---
Contact staff writer Jane M. Von Bergen at 215-854-2769 or jvonbergen@phillynews.com.