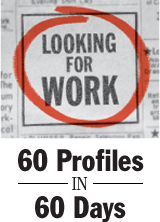 47/60 There are people with brains and talent, and then there are people who have a special talent for working with such folks.
That's been Cynthia McConnell's specialty for 20 years - the last dozen as a director of medical education, either for medical residents or for continuing education for physicians.
McConnell, 50, of Aston, never trained as a doctor, but she makes sure that doctors get the training they need.
One of her most important functions at her last job, at the Brooklyn Hospital Center, and at her job previous to that, at Crozer-Chester Medical Center, was to prepare the centers to maintain accreditation for graduate medical education.
It's a grueling process, involving site visits by the accreditation committee, and the preparation of a forest of documents and a mountain of binders. "I'm the person who is supposed to stay up on new requirements and make sure the policies are in place," she said.
The accrediting visits happen once every five years, but McConnell said she never allows her institution to be in a last-minute scramble to prepare.
When she got into the business, some colleagues told her to expect to deal with a bunch of brainy prima donnas, but that's not how McConnell sees it. The doctors, whether they are residents, full physicians, or medical thought leaders, have important responsibilities dealing with people's lives.
"They rarely have the time to carry out details," she said, "so they delegate it to someone at my level."
Update: As of December 2011, McConnell is working in graduate medical education at a local hospital. She started in May.

CynthiaMcConnell

Hometown: Aston.

Profession: Graduate medical education director.

Experience: Developed graduate medical education
requirements; helped a hospital
secure its first five-year
reaccreditation status.
Education: Neumann University -
master's in leadership.
E-mail address: Mcconc@msn.com
Cynthia McConnell's LinkedIn page


Because the job of making sure that medical education meets all the standards is important for the students, and the institution, "there are lots of details, which you could not drop at all," she said. "Everything had to be right on point. I became very good at follow-through."
Since she lost her Brooklyn job in 2009 in a management reshuffling, McConnell has been busy augmenting her own education. She earned a master's degree in leadership and is now studying for the Board of Governors examination for the American College of Healthcare Executives.
"It's to broaden my knowledge of the health-care environment - to learn about areas such as governance, human resources, finance," she said. "My growth has been continual."
Unlike many who have been out of work, McConnell has had some calls and some interviews. "I just need to close the deal," she said.
---
The Inquirer is not endorsing this individual as a job candidate; potential employers should conduct their own background checks.
---
Contact staff writer Jane M. Von Bergen at 215-854-2769 or jvonbergen@phillynews.com.