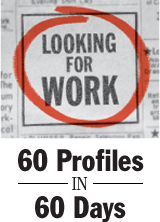 54/60 When Kathy Mackie was growing up, she dreamed of being a doctor, but there was no money for college. So her mother gave her advice: "If you learn bookkeeping, you will always have a job."
Maybe mothers aren't always right because it's been 20 months since Mackie, 54, had work as a bookkeeper.
"Bookkeeping and accounting have correct answers," said Mackie, of Abington. "There are specific ways to do things, and if it comes out wrong, you know it and it's fun to figure out why it's incorrect. It's fun to dig in and do the research.
"Then you analyze it. Is it just an error or is it a system problem that we need to address?" she said.
Like many unemployed baby boomers, Mackie came up in a workforce that relied more on ability and less on credentials. But the lack of credentials means that job search engines reject her resume because the key word "degree" doesn't pop up.
Mackie, a high school graduate, learned bookkeeping and accounting on the job. Because she wasn't narrowly focused, "I usually found myself doing everything that wasn't specifically assigned to someone else," she said.
That's what provided job satisfaction - the opportunity to participate fully and creatively in the business.
"People hear creative and then they think 'creative' accounting," Mackie said, laughing. "That scares people."
Her best job was being a regional business manager for Radio Disney 640 AM, responsible for five-year plans for nine radio stations from Boston to Philadelphia. She work entailed accounting, revenue scheduling, quarterly forecasts and annual operating and capital budgets.
Then, trouble struck. Her husband died of leukemia, leaving her to raise their son, now 19. Here's the irony: His life insurance is keeping them afloat - that, and her brief stint as a customer service representative.
Update: As of December 2011, Mackie is working several parttime jobs, but at least feels as if she is contributing. She is still searching for fulltime employment.
KathyMackie

Hometown:

Abington

.

Profession:

Accountant

.

Experience:

Regional radio business manager;
managed and evaluated subcontracts
in the construction sector;
set up a radio station.

.

Education:

Various office certifications

.

E-mail address:

kkmmackie@comcast.net
Kathy Mackie's LinkedIn page

Since she has been unemployed, "I've become the colonoscopy driver," she laughed, transporting neighbors to the hospital for their tests. "I've been able to do nice things for people."
She loves vintage fabrics and imagines starting a business, turning the fabrics into aprons and other gifts.
"I started to garden. I've learned to sew," she said. "I've become Martha Stewart."
Except for the blond hair and the money.
---
The Inquirer is not endorsing this individual as a job candidate; potential employers should conduct their own background checks.
---
Contact staff writer Jane M. Von Bergen at 215-854-2769 or jvonbergen@phillynews.com.