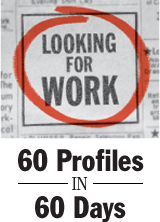 54/60 When Kathy Mackie was growing up, she dreamed of being a doctor, but there was no money for college. So her mother gave her advice: "If you learn bookkeeping, you will always have a job."
Maybe mothers aren't always right because it's been 20 months since Mackie, 54, had work as a bookkeeper.
"Bookkeeping and accounting have correct answers," said Mackie, of Abington. "There are specific ways to do things, and if it comes out wrong, you know it and it's fun to figure out why it's incorrect. It's fun to dig in and do the research.
"Then you analyze it. Is it just an error or is it a system problem that we need to address?" she said.