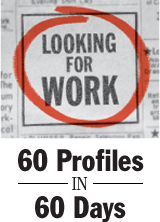 40/60 Unemployed printer William Lynn, 53, says he would be more than willing to take on his wife's list of repairs to their home in Turnersville.
But that hasn't happened.
"If you have the time, you don't have the money," he said ruefully. "And if you have the money, you don't have the time."
Lynn is no economist, but he doesn't need to be one to understand why his job went away.