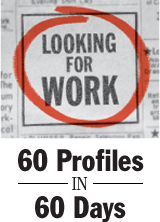 40/60 Unemployed printer William Lynn, 53, says he would be more than willing to take on his wife's list of repairs to their home in Turnersville.
But that hasn't happened.
"If you have the time, you don't have the money," he said ruefully. "And if you have the money, you don't have the time."
Lynn is no economist, but he doesn't need to be one to understand why his job went away.
"In a bad economy, the first thing companies cut back on is advertising, and advertising means printing," he said. His last employer ran a small operation - one printer to a shift, three shifts. One shift had to go and Lynn had the least seniority.
"I don't see the economy getting better," he said, "and I don't see printing coming back."
Upon graduating from high school, Lynn, like many other young people, had no idea how he wanted to earn a living. "I knew I wanted to do something with my hands. I knew I didn't want to work in an office, sitting behind a desk," he said.
He landed a job as a driver for a printing company and soon managed to move inside to get training on the press. Eventually, he landed an apprenticeship through the International Brotherhood of Teamsters Graphic Communications Conference.
That led to decades of good employment. His favorite job was with Phototype Color Graphics Inc. in Pennsauken and its successor Philadelphia companies, Mail Well Graphics and Cenveo Inc.
"We used to do award-winning printing," he said. "We were very high-quality.
"You would take your pride and your time to make sure it was perfect. You were on your toes," he said.
Update: As of December 2011, Lynn is still looking for work.
WilliamLynn

Hometown:

Turnersville

.

Profession:

Printer

.

Experience:

Senior pressman

.

Education:

Philadelphia Offset Printing School -
printing technology.
E-mail address: Mrbill1975@comcast.net
That job ended in June 2007, after 22 years. By October 2007, Lynn was the senior pressman at Square One Studio One Inc. in Mount Laurel, his employer until July, when he was laid off.
Unemployment benefits help and "everybody knows I'm laid off, so if they need an extra hand, they call me," he said.
On the plus side, he sees more of his family. He has an adult son who lives at home and a teenage daughter. At Square One, he worked the second shift, meaning that he'd see them - awake - only on weekends.
In between applying for jobs, Lynn worries about what will happen when his unemployment benefits runs out: "You can buy a flower and a pretzel off of me on the corner."
---
The Inquirer is not endorsing this individual as a job candidate; potential employers should conduct their own background checks.
---
Contact staff writer Jane M. Von Bergen at 215-854-2769 or jvonbergen@phillynews.com.