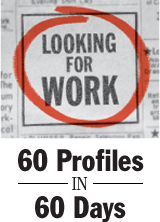 2/60 Salespeople divide themselves into two categories: hunter and farmer. Laid-off salesman and business developer Daniel Loeper, 43, says he's both.
The hunters scout out new customers.
That's the kind of sales that Loeper likes the most, when he is almost serving as a consultant to the customer.
Sometimes, that may mean looking down a different avenue for customers, or tweaking the product line in a new way so that it appeals to a different group of potential clients.