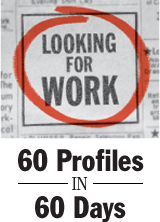 2/60 Salespeople divide themselves into two categories: hunter and farmer. Laid-off salesman and business developer Daniel Loeper, 43, says he's both.
The hunters scout out new customers.
That's the kind of sales that Loeper likes the most, when he is almost serving as a consultant to the customer.
Sometimes, that may mean looking down a different avenue for customers, or tweaking the product line in a new way so that it appeals to a different group of potential clients.
"I create new streams of revenue by generating new business," he said. "But, I'm also a farmer of existing accounts, working with those accounts to grow the business."
On Saturday, Loeper, of Holland, will mark a dubious anniversary: one year since he was laid off from his last job. These days, he's still in sales, only this time, he is the product. He has to sell himself into a new job.
"It's important to be confident, not cocky," Loeper said. "You have to be humble when you are looking for work. That humbles you, anyway.
"But you have to be able to talk about results and let them extrapolate what you can do for your prospective employer," he said.
Sometimes, Loeper said, salespeople lose their jobs because they don't bring in results. But that wasn't his situation in his last job, where he managed to pull in $887,334 worth of new business from one client in one year.
His company sold a service that managed subscriptions. A typical client would be a university with many departments, each buying multiple subscriptions to newspapers and academic or scientific journals.
Update: As of December 2011, Loeper is working in a sales job he landed in June.
DanielLoeper

Hometown:

Holland

.

Profession:

Business developer, sales

.

Experience:

Specialized in selling
information services

.

Education:

St. Joseph's University - MBA

.

E-mail address:

danloeper@gmail.com

Loeper's idea was to help develop and sell a similar service to corporations. The idea gained traction with his employer, but when the recession hit, companies drastically slashed their spending on employee subscriptions.
With three children, age 10, 8 and 6, Loeper is grateful for his wife's job as a social worker. The pay doesn't match what he made. "It pays enough to keep us afloat, but without unemployment benefits, we wouldn't be making it, and that's the truth."
When the children are at school, he works on his job search - and on dinner. Monday night's menu featured pot roast. At night, he'll go out to job support groups.
"I'm not blue. I'm not depressed," he said. "I'm encouraged by the people who have reached out to me. More than anything else, I feel hopeful."
---
The Inquirer is not endorsing this individual as a job candidate; potential employers should conduct their own background checks.
---
Contact staff writer Jane M. Von Bergen at 215-854-2769 or jvonbergen@phillynews.com.