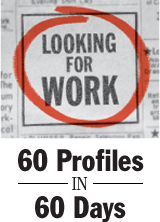 11/60 Soo Hwan Lee, 35, an unemployed data recovery specialist, says he likes the cold, which is good because he's using just enough heat to keep the pipes from freezing.
"When my wife's away on business, I turn down the heat," he said.
Lee, of Queen Village, was laid off from SunGard Data Systems Inc. in March, two weeks before his wedding. And if there's any indication of how unemployment changes one's social status, it's this: Of the 37 former SunGard colleagues invited to his wedding, only two attended.
"I said, 'OK, whatever.' "
Lee grew up in Cheltenham, having emigrated from South Korea in 1984. When he was a youngster, he scavenged the curbsides on trash day. "If there was a broken VCR in the street, or anything broken in the house, I would take it apart," he said.
That mechanical aptitude was useful when he helped SunGard's clients either recover lost data or design and test data recovery systems.
Fixing the problems relies on a knowledge of software, and of all the mechanical components and peripherals.
"That's what I like about the troubleshooting," he said. "It's not going to be identical every time. You have to try to figure out what's wrong and fix it as quickly as possible."
Lee came to SunGard as an intern from Drexel University. When Hurricane Katrina walloped New Orleans in 2005, he worked 10 hours a day every day for a whole month, remaining calm when clients were stressed.
Update: As of December 2011, Lee is working fulltime out of state. He is expecting a baby in the spring.
SooLee

Hometown:

Philadelphia

.

Profession:

Disaster recovery specialist

.

Experience:

Designed and tested
data disaster recovery plans,
created troubleshooting policies
and procedures, created
documentation, installed hardware
and cabling, assisted customers,
trained new hires.
Education: Drexel University -
bachelor's in information technology.

E-mail address:

soo.lee76@gmail.com


Soo Hwan Lee's LinkedIn page

Fewer high-profile disasters means less hiring - until another disaster strikes.
These days, he networks with friends and looks for jobs. His unemployment benefit barely covers the mortgage, and the couple must still pay the mortgage on the his wife's former house. It could be rented, but it needs work and there's no money to handle the repairs.
"Unemployment is very stressful," he said. "I've worked all my life. Even when I was 12, I worked in my parents' dry-cleaning stores."
He could open his own dry-cleaning business, but he dreads the idea. "I've done that for so many years," he said. "I don't want to do it."
---
The Inquirer is not endorsing this individual as a job candidate; potential employers should conduct their own background checks.
---
Contact staff writer Jane M. Von Bergen at 215-854-2769 or jvonbergen@phillynews.com.