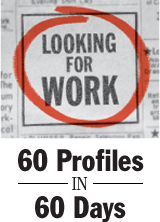 23/60 There are certain kinds of people who know how to make things happen. When the copy machine is broken, they can fix it. When a package gets lost, they track it down. When there's a meeting, they know how to operate the audiovisual equipment.
Most important, they make sure there is plenty of coffee in the break room.
Daniel Lamb, 49, an unemployed mail clerk and supervisor from Downingtown, prides himself on being one of those kinds of people.
"I make it up on my own or learn it as I go," he said. "I always look for ways to go beyond the job description."