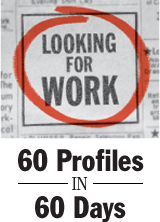 23/60 There are certain kinds of people who know how to make things happen. When the copy machine is broken, they can fix it. When a package gets lost, they track it down. When there's a meeting, they know how to operate the audiovisual equipment.
Most important, they make sure there is plenty of coffee in the break room.
Daniel Lamb, 49, an unemployed mail clerk and supervisor from Downingtown, prides himself on being one of those kinds of people.
"I make it up on my own or learn it as I go," he said. "I always look for ways to go beyond the job description."
Lamb lost his last job, at AmerisourceBergen Corp., in March 2010 when the Valley Forge company decided to find an outside vendor to handle mail room functions. That kind of thing is fairly standard, with companies switching between outsourcing that function and operating their own mail rooms.
Lamb has been on both sides of that equation over the course of his career.
At AmerisourceBergen, where he was a mail room operations supervisor, he was proud of the bulk toner-recycling program he initiated. He also obtained $20,000 in office-supply credits by carefully monitoring invoice and delivery discrepancies.
"I wanted to be an asset to the company," Lamb said.
He enjoys buying supplies. "I'm actually good at it," he said. "You play one [vendor] off against the other."
Lamb believes mail clerks are key to a company's operations. They help set the tone of the office environment.
"No matter how hard the job is, you have to have a smile on your face," he said. "I know a lot of the ins and outs of things, and everybody knows me."
At one point in the mid-1990s, Lamb took a leave from the corporate environment to handle another job. It had many of the same attributes, but in a completely different environment.
DanielLamb

Hometown:

Downingtown.

Profession:

Mail room supervisor.

Experience:

Managed deliveries for 450 employees
and 200 corporate divisions.

Education:

West Chester University -
working toward bachelor's in business

.

E-mail address:

DanielLamb228@aol.com

Daniel Lamb's LinkedIn page

He worked as an aide-de-camp to cabaret singer Jane Olivor.
"I was her tour assistant and bodyguard," he said. "I made sure the lighting cues were right. I made sure that whatever she was wearing was pressed and ready.
"We went everywhere," said Lamb, who is a huge fan. "I loved it. It was the most fun I ever had on a job."
These days, he has to combat the frustration of job-hunting.
"Every time you think you've hit it, you hit another roadblock," he said. "You send in your resume - did anyone even look at it?"
---
The Inquirer is not endorsing this individual as a job candidate; potential employers should conduct their own background checks.
---
Contact staff writer Jane M. Von Bergen at 215-854-2769 or jvonbergen@phillynews.com.