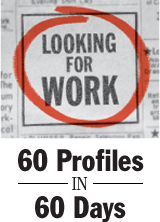 21/60 Karen Martineau Jones, 49, an environmental health and safety manger, is lucky in love. In her work, well, that's a different story.
Let's rewind to 1998, when Jones, who was then living in California, returned to Malvern for her 20th high school reunion.
Never married, she fell in love with a former Great Valley High School classmate, also never married.
In 2005, she quit the job she held for 20 years to move back east to West Chester, where her husband owns a bicycle shop.
They married in 2007, the same year she landed a job as an environmental and safety manager at Reynolds Packaging in Downingtown. The plant closed in March 2009.
Jones stayed on to manage the building through the shutdown process, finally finishing in October 2009. "I was the one who handed the keys to the new owner," she said.
A chemical engineer, Jones started out as a process engineer, then moved into environmental safety, dealing with air permits, water permits, stormwater and hazardous-waste management.
Then, when a safety manager left, she took on those responsibilities, as well, handling OSHA compliance to keep workers safe.
"I walk into a restaurant, and I notice, 'Oh, that isn't sprinklered. Oh, they blocked that fire exit,' " she said. "I walk by a fire extinguisher, and I notice, 'Oh, that hasn't been inspected.' "
Jones' job involves a tricky tango - working for optimum health and safety, while still conscious of the bottom line. "You run into resistance all the time," she said, some of it from management, some of it from workers.
Update: As of December, 2011, Jones landed work as a safety engineer.
KarenJones

Hometown:

West Chester

.

Profession:

Environmental and safety manager

.

Experience:

Managed environmental, health,
safety, workers' compensation and
risk management programs

.

Education:

Penn State University —
bachelor's in chemical engineering

.

E-mail address:

kmarjones@gmail.com.
Karen Jones' LinkedIn page



"You can go overboard," she said. "It's trying to find the balance between what would break the bank and doing what is right for the environment and the employees."
Shortly after she got laid off, she took a part-time job helping to manage a retail store near the couple's summer place. "I got to learn the back-office side of retail," she said.
Now, she wants to move back into her field, which she prefers to the kind of jobs normally associated with chemical engineer. "You are involved with people as opposed to being in a lab."
---
The Inquirer is not endorsing this individual as a job candidate; potential employers should do their own background checks.

---
Contact staff writer Jane M. Von Bergen at 215-854-2769 or jvonbergen@phillynews.com.