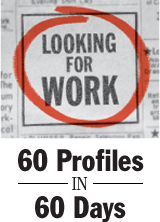 29/60 Her house is on the sheriff's block, an idea that once seemed unbelievable, and now is the new numbing normal.
With her 99 weeks of unemployment nearly exhausted, Donna M. Hardy Johnston, an unemployed public policy researcher, and her husband, who is diabetic and legally blind, try to make ends meet on his disability check from Social Security.
"There are times I want to cry all day," said Johnston, 58, of Lansdowne. "But something will come along."
Johnston loves being busy with research and all the public policy writing and speaking that goes with it. Her favorite job was a nine-year stint as research associate for the University of Toledo.
That's where she helped develop partnerships between the university and Toledo's big civic players: the public schools, the municipal government, and environmental groups including Ohio Environmental Protection Agency.
Besides representing the university at community group meetings, she also taught anthropology and sociology as an adjunct faculty member and worked as a student-services coordinator.
It was all good, but in 2005, she and her husband decided to move to Philadelphia to be nearer to his family. She landed a research job at Temple University, where she analyzed student data, such as retention rates and program popularity.
"It's interesting if you are busy all the time," she said.
But she wasn't, so when a short-term consulting job as a transportation project coordinator for the Camden County Workforce Investment Board came up, she jumped at the challenge, never imagining that she would have a hard time finding work when the job ended in June 2008.
Update: In February, 2012, Johnston will begin a new job in Florida as a Vista staffer. She lost her house to foreclosure.

DonnaJohnston

Hometown:

Lansdowne

.

Profession:

Researcher in education,
public policy

.

Experience:

Managed a $400,000 grant
to analyze transportation programs;
connected community needs to
urban university research; taught
college-level sociology, anthropology

.

Education:

University of Toledo -
doctoral candidate in social foundations and education

.

E-mail address:

Johnston.donna@gmail.com
Donna Johnston's LinkedIn page

In retrospect, she wishes she had stayed at Temple. "Boy, was I stupid," she said. "But, it's harder for me to look busy than to be busy.
"I have a very strong resume, but I have to dumb it down," she said.
Since her contract with Camden County ended, she has worked several short stints: as a census enumerator, an instructor at Rutgers, and a political canvasser, knocking on doors to turn out the vote in November.
"That was an eye-opening experience," she said. "Almost everyone knows someone who was laid off, or whose job was eliminated. Almost everyone knows someone who is hurting because of the economic conditions."
---
The Inquirer is not endorsing this individual as a job candidate; potential employers should conduct their own background check
---
Contact staff writer Jane M. Von Bergen at 215-854-2769 or jvonbergen@phillynews.com.