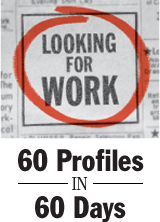 29/60 Her house is on the sheriff's block, an idea that once seemed unbelievable, and now is the new numbing normal.
With her 99 weeks of unemployment nearly exhausted, Donna M. Hardy Johnston, an unemployed public policy researcher, and her husband, who is diabetic and legally blind, try to make ends meet on his disability check from Social Security.
"There are times I want to cry all day," said Johnston, 58, of Lansdowne. "But something will come along."
Johnston loves being busy with research and all the public policy writing and speaking that goes with it. Her favorite job was a nine-year stint as research associate for the University of Toledo.